Trustees Approve FY 2008 Operating Budget
By John Harvith
Issue Date:
July 23, 2007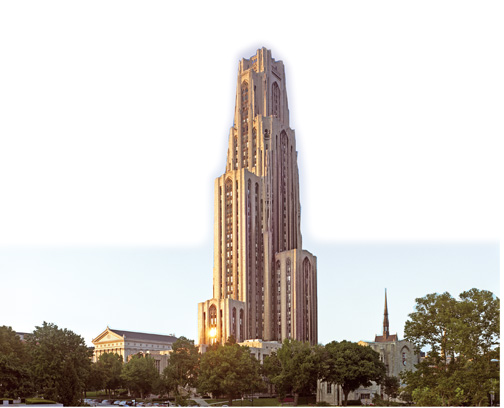 Building on the unprecedented progress of recent years, Pitt trustees have approved a $1.64 billion operating budget for fiscal year (FY) 2008.
The budget provides additional funding for academic and student life initiatives; research development; technology and infrastructure upgrades, including a campuswide wireless initiative; incremental strategic investments in fundraising; and library acquisitions.
It also provides for tuition increases ranging from 2 percent to 6.5 percent—increases that will support further investments in quality and that also reflect a continuing pattern of declining state support. In 1975, the Commonwealth appropriation represented 32 percent of the University's operating budget; by 1995, it had fallen to 19 percent; and today it represents slightly more than 11 percent of Pitt's operating budget.
The Pitt Board of Trustees' Executive Committee approved the FY 2008 budget on July 20, shortly after the Board's Budget Committee had recommended its approval. The Executive Committee is empowered to approve Pitt operating budgets on the full Board's behalf.
The action followed the enactment last week of the FY 2008 Commonwealth budget, which includes appropriations for Pitt and Pennsylvania's other state-related universities.
Pitt Chancellor Mark A. Nordenberg said, "The University of Pittsburgh continues to move through a period of remarkable progress. Among other things, this fall's entering class will be drawn from the largest and strongest pool of applicants in our history. Our collective successes are evidenced by the remarkable company we now are keeping. In terms of overall performance, for instance, Pitt ranks in the very top cluster of the country's public research universities, according to the 2006 edition of The Top American Research Universities, an annual report issued by The Center for Measuring University Performance. The only other universities in that select group are Berkeley, Illinois, Michigan, North Carolina, UCLA, and Wisconsin.
"In addition, we have just concluded another year in which faculty members, students, alumni, and programs received national and international recognition for their achievements and in which we made important improvements to the living and learning environments on our campuses," Nordenberg added. "The budget approved by our Board positions us to continue investing in institutionwide excellence, which has been critical to our dramatic upward trajectory since the mid-1990s. Given the fiscal pressures faced by all colleges and universities, this budget also keeps tuition increases at competitive levels while allowing us to take account of market differences that exist between the Pittsburgh campus and our regional campuses."
The single largest revenue component of Pitt's budget is research funding, expected to total approximately $632.3 million for FY 2008. These are the funds that support much of Pitt's pioneering research and help generate jobs throughout the region. Pitt's progress on this front is reflected in rankings released in 2006 by the National Science Foundation that show the University placing 12th among all national universities, public and private, in Federal Science and Engineering Research and Development Obligations and in rankings released in 2006 placing Pitt and its affiliates 7th nationally, among all universities, in funding from the National Institutes of Health.
Another critical revenue component is the Commonwealth appropriation, which for FY 2008 includes a 2 percent increase in the primary Educational and General line item funding, set at $164.3 million. Combined with Department of Public Welfare reimbursements, student-related line items, and rural education outreach expenditures, Pitt's total Commonwealth Appropriation for FY 2008 is $186.9 million.
"While Pitt remains grateful for the annual Commonwealth appropriation, it has not kept pace with inflation," commented Arthur G. Ramicone, Pitt's vice chancellor for budget and controller, "and when one accounts for the approximately $10 million of matching federal Medicaid funds that now fund health sciences, Pitt will receive less direct state support for fiscal year 2008 than it did in FY 2001.
"We take satisfaction in being able to say that for every dollar invested in Pitt by the Commonwealth, the University brings in nearly $3.40 in external research support," Ramicone added. "These are dollars that largely are spent on salaries, goods, and services here in the local area. They also support the development of new technologies that will help drive this region's economy in future years. In many ways, then, they represent an extraordinary return on the Commonwealth's investment."
Pitt's approved FY 2008 operating budget advances such priorities as faculty recruitment and retention, laboratory renovations, and library acquisitions. Utilities are budgeted to increase by 21.3 percent, or $10 million, primarily attributable to expected rate increases. Savings from conservation efforts have partially offset increases annually since fiscal year 2002, for a cumulative savings of $8 million.
Pitt has an ambitious $194 million FY 2008 capital budget, which continues to focus on renovations to the existing physical plant on all five campuses; many of the campuses' buildings were built in the 1960s and '70s and require substantial renovations to meet new program needs.
To help fund these initiatives, tuition rates at the Pittsburgh campus generally will increase by 6.5 percent for students who are Pennsylvania residents and 4.5 percent for out-of-state students. Tuition at Pitt's regional campuses in Bradford, Greensburg, Johnstown, and Titusville will increase by 4 percent for Pennsylvania residents and 2 percent for out-of-state students.
To help meet student needs, the budget for financial aid has increased by the same percentages as the tuition rates.
Tuition for the School of Dental Medicine's first professional program will increase by 3 percent for both Pennsylvania residents and out-of-state students. The School of Medicine will raise tuition by 6.5 percent for Pennsylvania residents and 3 percent for out-of-state students.
The approved budget also includes a faculty and staff salary increase pool of 3.5 percent, retroactive to July 1, 2007. "What has driven Pitt's progress is the talent and commitment of its hard-working, high-achieving employees," Nordenberg said. "As we become an even better university, we face increasingly intense competition to recruit and retain the very best faculty and staff, and because we are an institution that is so heavily dependant on the performance of its people, providing competitive levels of compensation is one key to maintaining our momentum."
Building Pitt's budget is a process that spans most of the year. It begins with the recommendations of planning and budgeting committees within the various responsibility centers of the institution and includes subsequent recommendations to the chancellor from the Universitywide Planning and Budgeting Committee, which includes administrators, faculty, staff, and students.
Recommendations made by the chancellor are submitted first to the Board's Budget Committee and then to the Board or its Executive Committee for final approval. Because the Commonwealth budget had not been finalized by the time of the annual meeting of the board on June 29, the Budget Committee and Executive Committee took action last week.
Other Stories From This Issue
There are no stories for the issue at this time.
On the Freedom Road

Follow a group of Pitt students on the Returning to the Roots of Civil Rights bus tour, a nine-day, 2,300-mile journey crisscrossing five states.
Day 1: The Awakening
Day 2: Deep Impressions
Day 3: Music, Montgomery, and More
Day 4: Looking Back, Looking Forward
Day 5: Learning to Remember
Day 6: The Mountaintop
Day 7: Slavery and Beyond
Day 8: Lessons to Bring Home
Day 9: Final Lessons