Trustees Elect, Re-Elect Members; Approve Student Fee Increases; and Amend Bylaws
Issue Date:
July 9, 2007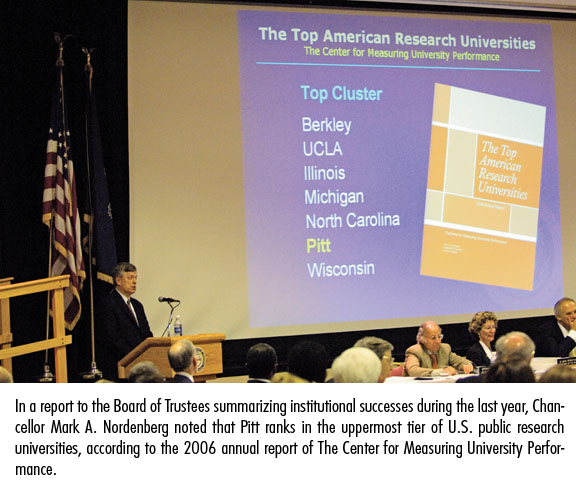 Pitt Board of Trustees Chair Ralph J. Cappy and Vice Chairs Suzanne W. Broadhurst and Robert M. Hernandez were re-elected to one-year terms during the board's annual meeting June 29.
Cappy is Chief Justice of Pennsylvania. Broadhurst is director of corporate giving for Eat 'n Park Hospitality Group, and Hernandez is chair of RTI International Metals, Inc. and retired vice chair and chief financial officer of USX Corp.
Also during the meeting, the Board of Trustees:
• Elected new members and re-elected others to the board and its executive committee;
• Elected and re-elected University directors and members of the University of Pittsburgh Medical Center (UPMC) Board of Directors' executive committee and the UPMC Presbyterian Shadyside Board of Directors;
• Approved increasing the student orientation fees at Pitt's Greensburg and Titusville campuses, the student center fee at Pitt-Greensburg, and the student activity fee at Pitt-Johnstown; and
• Amended the board's bylaws to eliminate term limitations for community representatives on trustees committees.

New and re-elected members of Pitt and UPMC boards and committees Elected as members of Pitt's Board of Trustees were:
• Terrence "Terry" P. Laughlin (KGSB '81) of New York City, senior vice president and head of Strategic Growth Opportunities, Merrill Lynch & Co., Inc., and chair of Merrill Lynch Bank & Trust Co., FSB;
• Susan P. McGalla of Pittsburgh, president and chief merchandising officer of American Eagle Outfitters, Inc.;
• Bryant J. Salter (CAS '71) of Florida, founder and CEO of Business Diplomacy Consulting, LLC; and
• Stephen R. Tritch (ENGR '71, KGSB '77) of Monroeville, president and CEO of the Westinghouse Electric Company.
Laughlin, McGalla, Salter, and Tritch were advanced for election as trustees by the board's nominating committee.
Also elected to Pitt's board were:
• David Tilstone, president of Extrude Hone Corp., a subsidiary of Kennemetal Inc. and a member of the Pitt-Greensburg advisory board, and
• Emil M. Spadafore Jr. (CAS '71), a partner in the Meadville, Pa., law firm of Thomas, Spadafore, Walker & Keenan and chair of the Pitt-Titusville advisory board.
Tilstone and Spadafore were advanced for election as trustees by the Greensburg and Titusville advisory boards.
For biographies of Laughlin, McGalla, Salter, and Tritch, see story in the June 25 Pitt Chronicle available online at www.chronicle.pitt.edu/?p=430. For biographies of Tilstone and Spadafore, visit www.chronicle.pitt.edu/?p=456.
Re-elected to Pitt's board during the June 29 annual meeting were G. Nicholas Beckwith III, chair and CEO of Arch Street Management, LLC; Michael A. Bryson, chief financial officer and director of finance and corporate strategy, Mellon Financial Corp.; Ralph J. Cappy; F. James McCarl III, president of The McCarl Group; John H. Pelusi Jr., executive managing director and managing member, Holliday Fenoglio Fowler L.P.; William E. Strickland Jr., president and CEO, Manchester Bidwell Corp.; and Burton M. Tansky, president and CEO, Neiman Marcus Group.
Elected to the board's executive committee for one-year terms ending June 2008 were Eva Tansky Blum, senior vice president, PNC Financial Services Group; John G. Conomikes, chair of the executive committee of Hearst Argyle Television, Inc.; George L. Miles Jr., president and CEO, WQED Multimedia; Marlee S. Myers, managing partner, Pittsburgh office of Morgan Lewis & Bockius LLP; Thomas H. O'Brien, retired chair, PNC Financial Services Group; and Robert A. Paul, chair and CEO, AMPCO-Pittsburgh Corp.
Re-elected as first vice chair of the UPMC Board of Directors was Ralph J. Cappy. Elected as University Directors on UPMC's board were Marlee S. Myers and Thomas J. Usher, chair of Marathon Oil Corporation; re-elected as a University Director on the UPMC board was Steven G. Elliott, senior vice chair, Mellon Financial Corp.
Elected as members of the UPMC board's executive committee were Robert G. Lovett, partner, Lovett Bookman Harmon Marks LLP; and Thomas J. Usher. Re-elected were J.W. Connolly, retired senior vice president, H.J. Heinz Co.; William S. Dietrich II, managing director, Dietrich Charitable Trust; Ira J. Gumberg, president the CEO, J.J. Gumberg Co.; Robert M. Hernandez; Arthur S. Levine, Pitt senior vice chancellor for health sciences and dean of the School of Medicine; Martin G. McGuinn, retired chair and CEO, Mellon Financial Corp.; Pitt Chancellor and CEO Mark A. Nordenberg; Robert A. Paul; and William E. Strickland.
Student fees
Pitt trustees approved increasing Pitt-Greensburg's student orientation fee by $10 to $50 for first-year students. The board also approved increasing Pitt-Greensburg's student center fee from $37 to $45 per term for full-time students and from $14 to $17 per term for part-time students. The increases will take effect this fall. The fees had not been increased since 2000.
In addition, trustees approved increasing Pitt-Johnstown's student activity fee from $58 to $83 for each fall and spring term for full-time students, effective this fall. The fee was last increased in 2000.
Also, trustees approved increasing Pitt-Titusville's student orientation fee for new full-time students from $45 to $60, effective this summer. The fee was last increased six years ago.
Bylaws amendment
Board of Trustees committees other than the Executive, Nominating, Compensation, and Conflict of Interest Committees may include community members who attend meetings as nonvoting representatives. Board bylaws formerly held that such community representatives could serve no more than four consecutive one-year terms. But trustees voted June 29 to eliminate that term limit.
"The University has benefited greatly from the expertise provided by community representatives, particularly in the fields of finance and investing," read the background statement for the resolution amending the bylaws. "In order to maintain the continuity of service and expertise of community representatives on Board of Trustees committees, it is deemed appropriate that the term limitation be eliminated."
Other Stories From This Issue
There are no stories for the issue at this time.
On the Freedom Road

Follow a group of Pitt students on the Returning to the Roots of Civil Rights bus tour, a nine-day, 2,300-mile journey crisscrossing five states.
Day 1: The Awakening
Day 2: Deep Impressions
Day 3: Music, Montgomery, and More
Day 4: Looking Back, Looking Forward
Day 5: Learning to Remember
Day 6: The Mountaintop
Day 7: Slavery and Beyond
Day 8: Lessons to Bring Home
Day 9: Final Lessons