Tutu Receives Honorary Doctorate From Pitt, Carnegie Mellon
By Jason Togyer
Issue Date:
October 29, 2007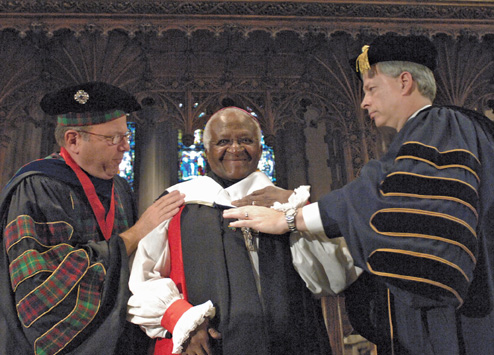 1,100 attend celebration at Calvary; Nobel laureate calls audience to serve
In front of a packed sanctuary at Pittsburgh's Calvary Episcopal Church, Archbishop Emeritus Desmond Tutu called on listeners to create a world in which wealth is shared "and there are no outsiders."
Paraphrasing the Rev. Martin Luther King Jr., Tutu said, "I too have a dream, that one day my children are going to know that they are all sisters and brothers, are all family."
People of all races and faiths "are held in His embrace," said Tutu, winner of the 1984 Nobel Peace Prize for his tireless crusade against South Africa's apartheid system of segregation and oppression.
"God said, 'I have no one but you to help me realize my dream,'" Tutu said. "'Help me. Please help me.'"
Tutu delivered the sermon on Thursday, during what was billed as an "interfaith service for justice and peace." Representatives of Pittsburgh's Christian, Jewish, and Muslim communities all participated.
The two-hour service, attended by more than 1,100 people, included modern and traditional spiritual music from Pitt's Kuntu Repertory Theater, Calvary's choir and organists, and the Pittsburgh High School for the Creative and Performing Arts Choral Ensemble.
And the service was leavened throughout by what Pitt Chancellor Mark A. Nordenberg called Tutu's "famous sense of humor."
Following the sermon, Tutu was granted the first honorary Doctor of Humane Letters ever jointly awarded by the University of Pittsburgh and Carnegie Mellon University. "I don't think it has ever even been suggested" before, said Carnegie Mellon President Jared L. Cohon, adding "Desmond Tutu has a way of making people do rare things."
In presenting the honorary joint degree, Nordenberg praised Tutu not just for his leadership in ending apartheid, but also for continuing to engage "the most pressing global issues of our time," including terrorism, HIV/AIDS, the death penalty, gay and women's rights, and corruption.
"You care less for offense taken by the powerful and more for the needs of the powerless," Nordenberg said. "Widely you teach, you write, you prod and preach in praise of progress and in condemnation of the contemptible."
Nordenberg and Cohon together placed on Tutu's shoulders a doctoral hood bearing both Pitt's blue and gold colors and Carnegie Mellon's Scottish tartan plaid.
Others participating in the service included Pitt Provost and Senior Vice Chancellor James V. Maher and University Senate President John Baker, professor of dental medicine.
Born in 1931 in Klerksdorp, South Africa, Tutu planned to become a school teacher until South African's White minority government in 1953 imposed on Black students an inferior system of education that eliminated math and science classes in hopes of keeping them in a permanent underclass. Tutu instead entered the seminary and was ordained in the Anglican church in 1961, continuing his studies at the University of London, where he earned a master's degree in theology.
After returning to South Africa, he was elected bishop of Lesotho, bishop of Johannesburg, and archbishop of Cape Town.
In the late 1970s, Tutu became one of South Africa's strongest advocates both for ending apartheid and peacefully transforming the nation into a representative democracy. In 1995, President Nelson Mandela named Tutu to head the commission investigating human-rights violations that occurred under apartheid. Tutu retired from the archdiocese of Cape Town in 1996 and has since served as archbishop emeritus.
Tutu was invited to Pittsburgh by the board of directors of Shared Interest, a New York-based nonprofit organization that assists grassroots businesses in South Africa by guaranteeing loans to them. Tutu serves as honorary chair of Shared Interest's board, and on Wednesday night he was guest of honor at a fundraising dinner for Shared Interest, held at Carnegie Music Hall in Oakland.
The Rev. Dr. Harold T. Lewis, rector of Calvary, is a member of Shared Interest's board of directors.
"This is a high day in Zion," he said, quoting a favorite saying of a friend and fellow pastor and noting that the flag of the Republic of South Africa was flying outside Calvary's front door in Tutu's honor. "We may leave it there for a few days," Lewis said.
Donna Katzin, executive director of Shared Interest, said that Tutu has "offered profound insights into the economics of reconciliation," noting that Black and White South Africans will not truly be equal until both share in the nation's economic recovery.
Economic justice was a major theme of Tutu's sermon, which was punctuated with robust applause from the congregation. Just a "small fraction" of the millions spent on wars of "death and destruction," Tutu said, "would ensure that every day, all of our sisters and brothers" have access to clean water, good schools, health care, and housing.
Jesus' calls to his followers to give away their possessions and minister "to the least of my people" are among "the most radical words of Christ" and must be taken to heart, Tutu said. "You don't say to your family, 'You are going to receive from the family budget that which you contribute,'" he said. "The baby contributes nothing! You don't say to grandma, 'How much have you put into the pot?'"
At Tutu's request, the collection taken during Thursday's service will be donated to Tygerberg Children's Hospital in South Africa.
Tutu seemed genuinely delighted to meet a Pittsburgh namesake, 6-year-old Desmond Rucker, whose family belongs to Calvary church and who was adopted from a South African orphanage. His sister, Micaiah, 12, said their mother told Desmond that he was named for Tutu, a "superhero" who fought for "peace, justice, and reconciliation" in South Africa.
Micaiah Rucker said Desmond then asked his mother, Dana, "Can he fly?"
After brother and sister presented Tutu with a portrait that Desmond Rucker had drawn imagining the archbishop as a crime-fighter in a lime-green cape, Tutu quipped, "He's got the nose right."
Near the service's conclusion, Tutu was presented with a $5,000 donation to Shared Interest from the Women of Calvary. Pennsylvania Lt. Gov. Catherine Baker Knoll presented Tutu with a proclamation welcoming him to Pittsburgh on behalf of Gov. Edward G. Rendell.
At the end of the service, "Prayer for Africa" was sung in both Swahili and English, led by Grace Kelly Kalasso of Kuntu. Afterward, Tutu greeted wellwishers at a reception in Calvary's fellowship hall.
Other Stories From This Issue
There are no stories for the issue at this time.
On the Freedom Road

Follow a group of Pitt students on the Returning to the Roots of Civil Rights bus tour, a nine-day, 2,300-mile journey crisscrossing five states.
Day 1: The Awakening
Day 2: Deep Impressions
Day 3: Music, Montgomery, and More
Day 4: Looking Back, Looking Forward
Day 5: Learning to Remember
Day 6: The Mountaintop
Day 7: Slavery and Beyond
Day 8: Lessons to Bring Home
Day 9: Final Lessons