The University's Sustained Commitment to Excellence
Issue Date:
November 12, 2007
A report to the University of Pittsburgh Board of Trustees
by Chancellor Mark A. Nordenberg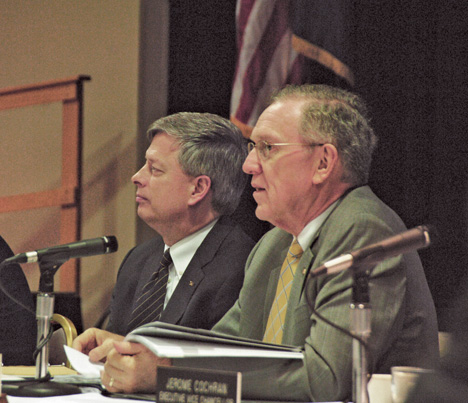 (Above: Pitt Chancellor Mark A. Nordenberg and Provost and Senior Vice Chancellor James V. Maher during the Oct. 26, 2007 meeting of the board of trustees. This is the print version of the report delivered at that meeting.)
When we last met, at the very end of June, we took a look back at the 2006-07 academic year and agreed that it had been a very big year for Pitt. It was big in the sense that we achieved a big goal—passing the $1 billion mark in our capital campaign. It was big in the sense that we celebrated a big birthday—marking the 220th anniversary of Pitt's founding as a log cabin academy at what was then the edge of the American frontier. And it was big in the sense that we launched the big project to clean and preserve the Cathedral of Learning—an initiative that might be viewed both as a 220th birthday present to Pitt and an especially fitting acknowledgment of the 70th birthday of the Cathedral itself.
We will not have that same array of milestones to celebrate this year. No campaign total, even though larger, will have the same magic as $1 billion—at least until we get to $2 billion. A 221st birthday, though it involves a bigger number, does not carry the same cachet as the 220th.
And no matter what impressive facilities projects we may undertake, nothing will have the same emotional appeal as our recent investments in the Cathedral of Learning.
But the last academic year also was a big year for Pitt because of the work that was done, the progress that was forged, and the momentum that continued to build. As we have moved into the new academic year, our clear commitment has been to continue "picking up speed"—and all of the signs suggest we will be able to do so.
As the veterans among you know, I am a "true believer" when it comes to the position statements publicly adopted by this board in February of 1996. Those priority statements have provided a framework within which we have been able to significantly elevate institutional quality, both through deliberate planning and also through the pursuit of unanticipated opportunities. I plan to focus my remarks on three of those position statements, those that committed us to aggressively pursue excellence in undergraduate education, maintain excellence in research, and secure a resource base adequate to support our aspirations.
Undergraduate Education
The 2006-07 academic year really was a "banner year" for undergraduate education at the University. A high point, of course, was claiming both a Rhodes Scholar and a Marshall Scholar, the only public university in America to do so. You had the chance to meet and hear from Daniel Armanios and Anna Quider at our February meeting. I regularly receive e-mail messages from both of them and can report that they are happily situated at Oxford and Cambridge.
It is impossible to predict when we will claim both a Rhodes Scholar and a Marshall Scholar in the same year again. But we continue to attract the caliber of students who possess both the talent and the commitment to extend our exceptional record of student success in key national competitions.
Let me provide a clearer contextual sense of the changing pool from which our award winners and their classmates now will emerge.
The freshman class admitted to the Oakland campus in the fall of 1995 was drawn from an applicant pool of 7,825. For the class admitted in 2006, that applicant pool had shot up to 18,195, and this year it grew further, to 19,056—almost two and one-half times what it had been 12 years ago.
As you would expect, the larger applicant pool has produced freshman classes with much stronger academic credentials. For example, in 1995, just 19 percent of the enrolled freshmen ranked in the top 10 percent of their high school graduating classes. By 2006, that percentage had increased to 43 percent. And this fall, 48 percent of our Oakland freshmen ranked in the top 10 percent of their high school graduating classes.
In 1995, the median SAT score for Oakland-based freshmen was 1110. By 2006, that number had risen to 1229, and this year it was 1248. It is worth noting that our SAT increase of nearly 20 points this year came at a time when SAT scores nationally declined by about five points.
Even more telling, in terms of our success in attracting stronger entering classes, is the fact that we have done so while also dramatically increasing class size. In 1995, we enrolled 2,424 freshmen here in Oakland. In each of the last two years, the size of the entering class has been roughly 1,000 students larger than that. So, we have been able to enroll classes that are both bigger and better, which is no small feat.
Of course, what really matters is what happens to those students once they join us. In this regard, we try to engage incoming students from the very beginning.
Not only does "Arrival Survival" make moving in less painful, but it is structured to provide opportunities for students to begin to connect with campus groups.
We have preserved decades-old traditions, like Lantern Night—which featured [Pitt Trustee] Eva Blum as its principal speaker this year.
We have developed new traditions, such as the Freshman Convocation, the Chancellor's reception for incoming students and their family members, and our annual riverboat ride to the Heinz Field Fanfest.
And we follow up with activities like the bonfire pep rally and the pageantry of Homecoming.
We also have worked to create a physical environment supportive of learning and growth.
One key area of focus has been the development of increased on-campus housing. Recent reports have featured the opening of Pennsylvania and Panther halls, which together house 1,000 undergraduates on the hill overlooking the Petersen Center. This summer, we completed a new apartment complex for medical students near Scaife Hall. We now are in the process of converting Ruskin Hall, which had been used for medical students, into additional undergraduate housing on the lower campus, literally within the shadow of the Cathedral of Learning.
We also have partnered with the city in a serious effort to improve both safety and attractiveness in areas near campus where large numbers of our students reside.
In past years, we have invested heavily in physical fitness and recreational space, from the magnificent Baierl Center, to the renovated fitness center in Bellefield Hall, to the exercise facilities that now exist in many residence halls. This summer, we renovated the social spaces on the ground floor of the William Pitt Union, with the ribbon cutting held just last week.
Reflecting the fact that much student growth occurs outside the formal class-room setting, we also dedicated our brand-new Student Government Corridor and Cross-Cultural and Leadership Development Center in the William Pitt Union at that same time.
Of course, hardworking students also need to eat. This fall, we unveiled the brand-new Market Central dining facility in the Litchfield Towers, where more than 400,000 meals have been served since its late-August opening. I am not sure whether loading up on that fuel we call food or burning off the resulting calories is more important to college students. But Pitt students now can do both in style.
And while my comments and supporting visuals have focused on Oakland, it is important to note that much of our important work with undergraduate students takes place on our four regional campuses, and that parallels exist there. I also should note that two of those campuses—Pitt-Greensburg and Pitt-Johnstown—welcomed new presidents this summer. In fact, we formally installed Jem Spectar as UPJ's president last month, with UPG's installation of Sharon Smith scheduled for the spring term.
Whatever their physical location or academic level, in dealing with our students, we try to encourage a commitment to service, nurture the development of leadership qualities, and stimulate a sense of high academic ambition. We also advance that cause by exposing our students to inspiring examples, as we did through the Legacy Laureate program—featuring, among others, Trustee John Pelusi—during Homecoming last week.
Research
High academic ambition has been a key driver of our considerable strength in research. Here, too, it is useful to look at our trajectory over time. In fiscal year 1995, our research expenditures totaled about $230 million. By 2006, that total had risen to $602 million, and this past year, it climbed even higher—to more than $620 million.
That last increase is particularly noteworthy, because federal research funding streams currently are under severe stress. In fact, just last month, the National Science Foundation reported that federal spending for academic research and development, after adjustments for inflation, had fallen for the first time in 25 years. A Chronicle of Higher Education article discussing that report made a more refined point of particular significance for Pitt, given the makeup of our research portfolio.
Biomedical researchers, in particular, have been singing the blues about money since 2003, when an effort to double the National Institutes of Health budget over five years ended. Since then, the NIH's budget—the largest single source of funds for academic research—has received increases below inflation.
What all of this appears to mean is that our strategy is paying off. We could not predict exactly when or why federal funding for research would dip. However, it seemed predictable that a downturn would come at some point in time. We invested, both in facilities and in people, trying to position ourselves so that we could compete effectively whenever the environment did become more challenging.
We appear to be succeeding in two important senses. First, the absolute total of research dollars attracted, after flattening for a year, is increasing again. Second, we are improving our position within the ranks of the country's leading research universities, which present very formidable competition.
In the most recent rankings available from the NIH, we place seventh nationally in terms of the grants won by members of our faculty. As you already know, the "top 10" institutions with which we are competing are a very strong group. And, as I have been reporting to you for months, this information really is "stale." We fully expect that when the next rankings are released, we will have moved into the sixth position nationally. And we rank 11th nationally in terms of total federal science and engineering research and development obligations, up from 12th one year ago.
On the science and engineering side, we continue to open important facilities that will support key initiatives, such as our Center for Vaccine Research, which was dedicated late last month. And just two days ago, we announced a $23 million grant to support the creation of the new Richard King Mellon Foundation Institute for Pediatric Research.
We continue to attract major grants. Three of particular note in recent weeks were a $16 million NIH grant to establish an HIV research center, an $8 million NIH grant to lead the largest study ever of the rare autoimmune disorder called myositis, and a $4.75 Department of Education grant to create a rehabilitation engineering research center on spinal cord injuries.
We continue to host important programs, such as Science 2007—which, for the second consecutive year, featured a Nobel Prize winner in the very week of his selection for that high honor.
Our faculty members continue to win the highest forms of recognition, such as the recent naming of Roberta Ness, the chair of the Department of Epidemiology in the Graduate School of Public Health, as the president-elect of the American College of Epidemiology and the even more recent election of psychiatry professor David Lewis to the Institute of Medicine.
And we continue to promote an entrepreneurial research culture through a broad range of initiatives led by our Office of Technology Transfer and events like our annual Celebration of Innovation.
But I also want to underscore the fact—because we do so often dwell on research dollars—that the breadth of the institution, in terms of scholarship, outreach, and impact, extends far beyond our obvious strengths in science and engineering. Just to highlight a few telling examples from recent weeks:
We began a yearlong celebration of the 40th anniversary of the Pitt Poetry Series, published by the University of Pittsburgh Press and widely regarded as among the finest poetry series in the country;
We presented the annual Drue Heinz Prize, also housed within our Press, which is the country's most prestigious award in short fiction;
We marked the fifth anniversary of our Center on Race and Social Problems, the only center of its type housed in a school of social work;
We hosted the first in a series of national forums on designing healthy, livable communities for older Americans, as well as the annual Thornburgh Family Lecture on Disability Law and Policy; and
We began preparing for the 37th annual Pitt Jazz Seminar and Concert, the longest-running program of its type in the country.
Fundraising
For us to sponsor such a wide range of programs and to support the work of so many talented people and to create the kind of opportunities that really exist only within a top research university obviously requires resources. Some of what we need comes from government. Certainly, we would not be where we are today without both federal and state support—but both of those revenue streams are under stress. Particularly with public support for public higher education declining, more daunting financial commitments have been required of students and their families.
For us, the brightest light, by far, on the resource side has been our private fundraising progress. In 1995, we received $39 million in total voluntary support. By 2006, that number had risen to $117 million. Last year, it passed $122 million. Over that same period, the percentage of support provided by individuals increased from 24 percent to 41 percent to 45 percent—a change we knew would be required if our capital campaign was to be a success. So far, more than 127,000 donors have taken that campaign to a total that is fast approaching $1.15 billion.
One of the great things about this campaign is that when we talk about "voluntary" support, we really do mean it. Despite our successes, this has not been a hard-sell effort. Instead, we have let people know of our strengths and of our needs, and they have responded generously.
Outreach efforts since our last meeting have taken many forms. The Cathedral of Learning Society Dinner was held in the Commons Room of the Cathedral on the evening of our summer board meeting. At that very special recognition event, we inducted 20 new contributors of $1 million or more, including Trustees Chuck Steiner and Tom Usher.
Most of our outreach efforts are far less elegant, but they are becoming increasingly popular. This year's Chancellor's Circle event drew more than 700 people, essentially twice our previous high. When we decided to hold a special "University Update" at the Duquesne Club last month, we sold out the main dining room and generated a waiting list in two days. We had a very successful event in Boston last month and have another scheduled in New York City—to be hosted by Terry Laughlin—in about 10 days. Building on both our strong placement partnership and the generous support we have received from its foundation, we had a "U.S. Steel Day" on campus this fall. And, of course, Homecoming gave us the chance to bring large numbers of graduates back to Pitt, reconnecting in a wide range of ways, through almost countless events and activities.
As I moved from event to event, there was one prevailing feeling—people liked to be back. They liked to be back, in part, because of the memories of their own pasts that their current presence triggered. But they also liked being back because they were proud to see what their University had become…and is still in the process of becoming.
There are some things that are very real—even if you cannot chart them or graph them or rank them. The growing pride in Pitt is one of those things—and you, as a board, have played a major role in shaping the progress upon which those feelings are built. That, in turn, ought to be a very special source of pride for you. Of course, as we constantly remind ourselves, it also is a source of pressure … welcome pressure…the pressure to keep things going.
Since we are just passing the midpoint of the first term, we still have a lot of time to get more good things done in this current academic year. In fact, we may have more time than was available last year, because without big birthdays to mark or big campaign goals to pass, less time will be invested in celebrations.
We are off to a very good start. And there is every reason to believe that this academic year will become just the most recent in an unbroken string of years in which the University of Pittsburgh becomes better, in meaningful ways, than it ever has been.
That has become the Pitt pattern. The fact that we have been able to forge such a sustained and dramatic record of progress is a tribute to the "people of Pitt"—faculty, staff, students, alumni, and friends. And, of course, it all begins with you. Thanks, congratulations, and best wishes to us all for the important work that still lies ahead. Remember, as pleased as we may be about Pitt's recent progress and its current condition, one important aspect of our responsibilities is working to ensure that the best is yet to come.
Other Stories From This Issue
There are no stories for the issue at this time.
On the Freedom Road

Follow a group of Pitt students on the Returning to the Roots of Civil Rights bus tour, a nine-day, 2,300-mile journey crisscrossing five states.
Day 1: The Awakening
Day 2: Deep Impressions
Day 3: Music, Montgomery, and More
Day 4: Looking Back, Looking Forward
Day 5: Learning to Remember
Day 6: The Mountaintop
Day 7: Slavery and Beyond
Day 8: Lessons to Bring Home
Day 9: Final Lessons