University and City of Pittsburgh Officials Dedicate Pitt's New Public Safety Building
Issue Date:
April 16, 2007
Pitt's police, environmental health and safety departments housed at 3412 Forbes Ave.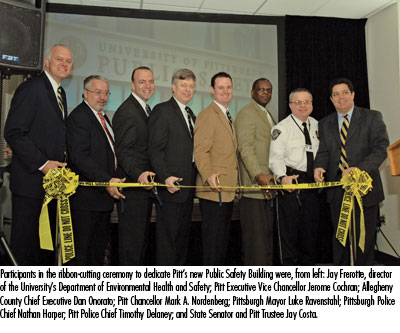 City of Pittsburgh Mayor Luke Ravenstahl and Chief of Police Nathan Harper and Allegheny County Chief Executive Dan Onorato joined Pitt Chancellor Mark A. Nordenberg, Executive Vice Chancellor Jerome Cochran, and Police Chief Timothy Delaney in officially dedicating the University's new Public Safety Building, at 3412 Forbes Ave., Oakland, during a ribbon-cutting ceremony and open house April 9.An estimated 150 people—including local government and public safety officials, business owners, and community leaders as well as members of the University community—attended the event.
"The University of Pittsburgh's public safety operation has been a great partner that we could always rely on in our efforts to make our city safer," Ravenstahl said. "The new facility is another example of the University's commitment to that mission, for the students, the faculty and staff, and the Oakland community. We wish them nothing but continued success in their new home."
"Community safety—and particularly the safety of a community where large numbers of young people study, work, and live—has been one of our University's ongoing priorities," said Nordenberg. "And the University's sizeable investment in this new Public Safety Building is also another sign of Pitt's broader commitment to its Oakland neighbors, to the City of Pittsburgh, and to the members of our own community of Pitt faculty, staff, and students."
Cochran said, "The growth in size and scope of responsibilities of Pitt's police force and of our environmental health and safety staff necessitated this move to the new facility. The new facility ensures that our public safety personnel have the most modern facilities and equipment to do their jobs of keeping faculty, staff, students, and residents safe."
The $6 million, four-story building houses the University's Police Department and Department of Environmental Health and Safety (EH&S). The new building was needed, Pitt officials said, because the University's Police Department has grown to more than 130 employees, including 74 commissioned officers, making it the third-largest police force in Allegheny County. The facility will serve as a command post during major emergencies, and sharing the space will assist the two departments in coordinating their activities.
The new facility not only provides the Police Department and EH&S with added space but also creates a visible police presence for visitors entering Oakland from Forbes Avenue, the primary route into Oakland from the west.
The 26,000-square-foot building includes a parking deck and surface parking to accommodate police and EH&S vehicles, as well as a secure structure for motorcycles and bicycles.
The Police Department's areas feature a state-of-the-art campuswide security monitoring and command center with three dispatch desks and a bank of four 52-inch video screens that can be configured in multiple ways to display security camera video, dispatch and call screens, and weather information. The system is fully integrated into the City of Pittsburgh and Allegheny County's 911 system. In addition, the police areas include rooms for evidence storage and protocol and interrogation and observation. There is also a holding room, separate detective area, and ammunition safe.
The University of Pittsburgh Police Association donated exercise equipment in the building's first-floor gym.
Occupying the fourth floor, EH&S has office space for 18 staff members and a training classroom. The department is responsible for developing, implementing, and administrating a variety of health and safety programs, which are established to ensure worker safety, environmental protection, and compliance with local, state, and federal regulations. EH&S conducts such services as fire drills and emergency preparedness exercises (65 in 2006), indoor air-quality assessments, hazardous materials training, and fire protection system review. The department educates 5,500 attendees at live and online training sessions each year, reviews all laboratory designs and renovations, and conducts annual inspections in more than 1,750 University labs. In 2006, EH&S reviewed and provided safety analysis of more than 1,600 research protocols.
With staff experienced in hazardous materials management and spill remediation, EH&S oversees environmental compliance and manages the proper handling and disposal of the University's biological and chemical waste.
The building features an emergency generator to ensure power to the campus' safety systems, which include digital video surveillance, building access, and emergency dispatch operations connecting to the University data and telephone networks, all of which support 24-7 operations. In case of a campuswide emergency, the building's phone system can operate independently, allowing it to remain online as the key emergency contact center for the University.
The building was designed to be environmentally friendly and energy efficient: The carpeting and many of the products used in construction are made from recycled materials, and the heating and mechanical equipment has a high-efficiency rating. The building's mechanical and temperature systems are electronically controlled by a central computer, which automatically regulates temperatures.
The Public Safety Building project was funded entirely by the University. Pitt's Office of Facilities Management was responsible for project administration and worked with the architectural firm Strada LLC and the construction manager P.J. Dick Inc.
Other Stories From This Issue
There are no stories for the issue at this time.
On the Freedom Road

Follow a group of Pitt students on the Returning to the Roots of Civil Rights bus tour, a nine-day, 2,300-mile journey crisscrossing five states.
Day 1: The Awakening
Day 2: Deep Impressions
Day 3: Music, Montgomery, and More
Day 4: Looking Back, Looking Forward
Day 5: Learning to Remember
Day 6: The Mountaintop
Day 7: Slavery and Beyond
Day 8: Lessons to Bring Home
Day 9: Final Lessons