University Names 12 New Legacy Laureates
By Lynn Shea and Brittney Gillison
Issue Date:
October 27, 2008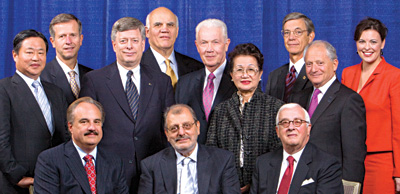 The University of Pittsburgh has named 12 new Legacy Laureates, alumni recognized for their outstanding personal and professional accomplishments. The laureates were honored during Pitt's Oct. 23-26 Homecoming festivities.
The Pitt Legacy Laureate program was launched in 2000. Following are brief biographies of this year's honorees.
Barry M. Brenner
Barry M. Brenner, one of the world's leading nephrologists, earned his Doctor of Medicine degree at the University of Pittsburgh School of Medicine in 1962.
Brenner has made unparalleled advances in the treatment of kidney disease and is the Samuel A. Levine Professor of Medicine at Harvard Medical School and director emeritus of the Renal Division of Brigham and Women's Hospital. He was director of the Harvard Center for the Study of Kidney Disease and the Physician-Scientist Program at Harvard Medical School.
Brenner is a fellow of the American Academy of Arts & Sciences; the Royal College of Physicians, London; the American Association for the Advancement of Science; and the Molecular Medicine Society. He has received many prestigious awards, including, from the International Society of Nephrology, the Amgen International Prize and the Jean Hamburger Award. He also has been honored by having had three lectureships named for him, at Brigham and Women's Hospital and at both the American and International Societies of Nephrology.
Brenner has trained many prominent nephrologists; published extensively, including the standard textbook Brenner & Rector's The Kidney; and received honorary degrees from universities worldwide.
Paul Richard Bridges
Paul Richard Bridges, a longtime recognized leader in his field, is chair of BRIDGES and Company, Inc., one of the largest contracting firms in Pittsburgh. He earned a bachelor's degree at the University of Pittsburgh School of Arts and Sciences in 1958 and a Bachelor of Science in Civil Engineering degree at Pitt's Swanson School of Engineering in 1959.
Established in 1982, BRIDGES and Company provides general contracting, design-build, construction management, and project development services for a variety of commercial and institutional projects throughout Western Pennsylvania, eastern Ohio, West Virginia, and Western Maryland. Under Bridges' leadership, the company has received numerous awards from the Western Pennsylvania Chapter of Associated Builders and Contractors, Inc. In 1988, the company was rated among the 30 fastest-growing new companies in the United States by Inc. magazine.
In 1989, Bridges was recognized by Inc. magazine, Arthur Young and Company, and the Pittsburgh High Technology Council as a Tri-State Construction Entrepreneur of the Year finalist, and in 2003, he received the Distinguished Alumni Award from the Swanson School's Department of Civil and Environmental Engineering.
Michael A. Bryson
After earning a Bachelor of Science degree at the University of Pittsburgh School of Arts and Sciences in 1968—along with the distinction of being a Phi Beta Kappa inductee, the 1968 Omicron Delta Kappa Man of the Year, and winner of the M.M. Culver Memorial Fund Award in mathematics—Michael A. Bryson forged a highly successful career as a bank executive.
Bryson is the retired executive vice president of The Bank of New York Mellon Corporation and was one of three Mellon Financial Corporation executives to serve on the committee that oversaw the corporation's merger with the Bank of New York, helping to preserve thousands of jobs in Pittsburgh and creating one of the world's largest asset-management and servicing companies. During more than 30 years with Mellon, he held positions in national, corporate, and institutional banking, corporate finance, and strategic planning. Eventually, he served as chief financial officer responsible for all areas of finance and corporate strategy.
Bryson has been an exceptionally devoted supporter of the University, serving as a member of the Board of Trustees, chair of the University Center for Social and Urban Research Board of Visitors, and director emeritus of the Pitt Alumni Association.
Yu-Mei Y. Chao
Yu-Mei Y. Chao has used the Master of Nursing Education and PhD degrees she earned at the Pitt School of Nursing in 1967 and 1979, respectively, to make important contributions to academic and professional nursing practices in Taiwan.
Chao is a research fellow at the Center for Health Policy Research and Development of the National Health Research Institutes in Taiwan, chief controller for the Taiwan AIDS Society, and executive director of the Childhood Cancer Foundation in Taiwan, and she serves on several committees of the Department of Health of Taiwan. She also is an adjunct professor at the National Taiwan University and chair professor at Chungtai Institute of Health Sciences and Technology.
Chao has helped influence international public health policies as a board member and third vice president of the International Council of Nurses in Geneva, Switzerland, and as a foreign associate of the Institute of Medicine of the National Academies of the United States. She has received the First Class Golden Medal of Health Merits from the Department of Health of Taiwan and a Distinguished Nursing Alumni Award from Pitt.
Brian Generalovich
Brian Generalovich was a standout student-athlete at Pitt, attending on an athletic scholarship. After earning a Bachelor of Science degree at Pitt's School of Arts and Sciences in 1965, he passed up offers from the New York Knicks, Boston Patriots, and the Pittsburgh Steelers to attend the Pitt School of Dental Medicine, where he earned the Doctor of Dental Medicine degree in 1968. He played football for one year at Pitt and earned distinction as a two-time Academic All-American and was selected team captain for two years and Most Valuable Player for three years as a member of the Pitt varsity basketball team.
After graduating from Pitt, Generalovich served in the U.S. Army Dental Corps and has operated a private dental practice in Hermitage, Pa., since 1971.
Generalovich recently became a member of Pitt's Board of Trustees and has served as the president, vice president, and treasurer of the Pitt Alumni Association, helping establish the Student Alumni Association. He is a member of the Pennsylvania Sports Hall of Fame's Western Chapter, received the Volunteer of the Year Award from the Pitt Alumni Association in 2000, and was named a Pitt Varsity Letterwinner of Distinction in 1993.
Nicole Johnson
Nicole Johnson was not satisfied to use her fame as Miss America 1999 to bring attention to diabetes and support the fight against the disease, which she has: She also wanted a formal health sciences education. So, in 2007, she earned a Master of Public Health degree at Pitt's Graduate School of Public Health.
A major philanthropic force, Johnson has helped generate $20 million for diabetes research and, through the Nicole Johnson Foundation, Inc., provides access to education, technology, and health care. Her company, Nicole Johnson, Inc., provides diabetes-related consulting, advocacy, and contract services. Her books include Living with Diabetes: Nicole Johnson, Miss America 1999 (LifeLine Press, 2001) and three Mr. Food (American Diabetes Association) series cookbooks. She serves as host of dLifeTV, a weekly CNBC show, and is a columnist for Diabetes Health magazine.
Among Johnson's numerous awards are a Telly Award, the American Diabetes Association's C. Everett Koop Award for Health Promotion, and the American Association of Clinical Endocrinologists' Eugene T. Davidson, MD, Award for Public Service. She is a member of the National Institute of Health's Director's Council of Public Representatives and serves as an ambassador for the International Diabetes Foundation's Life for a Child program, which advocates worldwide for children with diabetes.
Larry J. Merlo
Larry J. Merlo has used his 1978 Bachelor of Science degree from the Pitt School of Pharmacy as the launching pad for an eminently successful career as one of the nation's top retail drugstore industry executives.
As the executive vice president of CVS Caremark Corporation and president of CVS/pharmacy retail, Merlo has overseen the successful integration of thousands of new stores the company has acquired, playing a key role in the substantial growth of CVS and helping the company become the largest provider of prescriptions in the United States. CVS now fills or manages more than one billion prescriptions annually in its retail and specialty pharmacy stores, mail-order facilities, and pharmacy benefits management retail network. Merlo also is responsible for store operations, merchandising, logistics, inventory replenishment, marketing, and field operations support for 6,300 CVS/pharmacy stores in 40 states.
Merlo also serves as the treasurer of the board of directors of the National Association of Chain Drug Stores Foundation and was named Operations Executive of the Year in 2000 at Drug Store News' 16th Annual Retail Excellence Awards, the drug store retailing industry's top honors.
Achilleas Mitsos
Achilleas Mitsos—a Robert Schuman Fellow and visiting professor at the London School of Economics and Political Science—has made lasting contributions to the unification and advancement of Europe as a leading economist and former high-ranking official in the European Union. He earned his Master of Arts and PhD degrees in economics in 1972 and 1975, respectively, at Pitt's School of Arts and Sciences.
Mitsos enhanced the European Union's international role in the field of science and technology by having served as the director-general of the European Commission's Directorate-General for Research. As director-general, he helped to implement research programs designed to develop human capital in scientific research through the training and mobility of researchers, the strengthening of the social and economic sciences knowledge base, and promoting the diffusion of scientific and technological culture throughout the European Union.
Additionally, Mitsos was the head of the Department on European Community Issues at the Bank of Greece; an advisor for the Ministry of Foreign Affairs in Greece; professor of international economics at the University of Athens; and head of cabinet for Grigoris Varfis, a member of the Commission of the European Communities.
Frank Gaoning Ning
Frank Gaoning Ning went on to become a global business leader holding executive-level positions in some of China's largest national conglomerates after earning his Master of Business Administration degree at Pitt's Joseph M. Katz Graduate School of Business in 1985.
Ning is now chair of COFCO, a Fortune magazine Global 500 corporation that is one of the largest food manufacturers and leading grain, oils, and foodstuffs import-and-export groups in China. COFCO also provides real estate, hotel, and financial services and has annual sales revenues of more than $21 billion. He also is chair of COFCO (Hong Kong) and China Foods, Limited, a subsidiary of COFCO.
Ning has been recognized five times as one of the 25 most influential business leaders by Chinese Entrepreneur magazine and served as a mentor at the second annual meeting of the New Champions, a gathering of 1,500 leaders from 80 countries sponsored by the World Economic Forum.
Ning serves as a director of BOC International Holdings, Limited, and Smithfield Foods, Inc.; nonexecutive director of Lippo China Resources Limited; and a member of the International Association for Chinese Management Research and the Asia Business Council.
David H. Perrin
David H. Perrin, who earned his PhD degree at Pitt's School of Education in 1985, has made significant contributions to the body of sports medicine knowledge as a scholar, advocate, and academic leader. He is the provost and vice chancellor for academic affairs, professor in the Department of Exercise and Sport Science, and former dean of the School of Health and Human Performance at the University of North Carolina at Greensboro.
Perrin was chair of the Department of Human Services and Joe Gieck Professor of Sports Medicine in the Curry School of Education at the University of Virginia and has held various teaching and athletic trainer positions at Pitt, Castleton State College, and Indiana State University.
Perrin also served on the U.S. Department of Health and Human Services Advisory Committee on Interdisciplinary, Community-Based Linkages of the Health Resources and Services Administration as well as the Commission on Accreditation of Allied Health Education Programs' Joint Review Committee on Education in Athletic Training. He has received numerous honors and awards and has been an active member of the National Athletic Trainers' Association, the American College of Sports Medicine, and the American Kinesiology Association.
Henry Posner Jr.
Henry Posner Jr., who has done pioneering work as a research scientist and is a distinguished entrepreneur and philanthropist, is chair of The Hawthorne Group, a private investment and management company with holdings in multiple companies nationwide. He earned his Master of Science degree at Pitt's School of Arts and Sciences in 1948.
During World War II, Posner worked as a research scientist on solid fuels for rockets, military gas adsorption, and the Manhattan Project. He taught chemistry at Pitt and later began his business career at the Pittsburgh Outdoor Advertising Company, which was managed and partially owned by his father, Henry Posner Sr. He later joined his father in buying full ownership of the company and served as its president for 26 years.
Posner has served as president, chair, managing partner, or principal of 23 closely held businesses. As chair of The Hawthorne Group, he oversees the company's holdings in outdoor advertising, soft-drink bottling, health care, assisted living, information technology, paging, sports marketing, railroads, and real estate properties in Pennsylvania, South Carolina, and Florida.
Brian Segal
Brian Segal has proven his exceptional leadership skills by having risen to the highest ranks in both academia and the publishing industry of Canada after having earned a Master of Science degree at Pitt's Graduate School of Public Health in 1970 and a PhD at Pitt's School of Social Work in 1971.
Segal currently serves as president and CEO of Rogers Publishing Limited, Canada's largest publishing company, with more than 70 consumer, business, parenting, and medical magazines and newsletters. Previously, he served the company as executive vice president and publisher of Maclean's, Canada's largest-circulation news and current affairs magazine. Prior to working in the publishing industry, he was president and vice chancellor in Ontario of both Ryerson University and the University of Guelph.
Segal also has provided leadership and assistance to a variety of professional and community organizations, including service as chair for the National Institute of Nutrition, Magazines Canada, the National Innovations Committee of the Government of Canada, the Council of Ontario Universities, the National Forum on Post-Secondary Education, and the Shaw Festival.
Other Stories From This Issue
There are no stories for the issue at this time.
On the Freedom Road

Follow a group of Pitt students on the Returning to the Roots of Civil Rights bus tour, a nine-day, 2,300-mile journey crisscrossing five states.
Day 1: The Awakening
Day 2: Deep Impressions
Day 3: Music, Montgomery, and More
Day 4: Looking Back, Looking Forward
Day 5: Learning to Remember
Day 6: The Mountaintop
Day 7: Slavery and Beyond
Day 8: Lessons to Bring Home
Day 9: Final Lessons