University Names Radiology's Mathis a Distinguished Professor
By B. Rose Huber
Issue Date:
September 10, 2012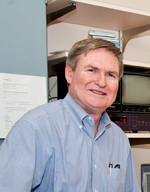 The University of Pittsburgh has honored Chester Mathis, a professor of radiology in Pitt's School of Medicine, as a Distinguished Professor. The rank of Distinguished Professor recognizes extraordinary, internationally recognized scholarly attainment in an individual discipline or field.
Mathis also holds secondary appointments in the Departments of Pharmaceutical Sciences in the School of Pharmacy and Pharmacology and Chemical Biology in the School of Medicine. He has a longstanding interest in applying synthetic radiochemistry techniques to develop positron emission tomography (PET) radiopharmaceuticals to study brain function in vivo. For more than 30 years, he has focused on the development of radiotracers to image the serotonin and dopamine neuroreceptor systems, as well as agents to evaluate other aspects of normal and abnormal function in the central nervous system.
Mathis, who is director of Pitt's PET Research Center and the UPMC Endowed Chair of PET Research, began his career at Pitt in 1992 as an associate professor of radiology and head of PET radiochemistry at the newly founded PET Research Center. About 18 years ago, he joined efforts with William E. Klunk, Pitt Distinguished Professor of Psychiatry and Neurology, to devise a PET radiotracer capable of imaging amyloid, a fibrillar protein that is associated with several serious neurodegenerative human diseases, including Alzheimer's. This work led to the development of a new class of highly successful radiopharmaceutical agents, among which is Pittsburgh Compound-B (PiB), a fluorescent analog of thioflavin T used to assess beta-amyloid in the living human brain using PET scanning. Using PiB, researchers around the world have detected and quantified amyloid plaques in cognitively normal elderly subjects many years before detectable symptoms of the disease were present. It is anticipated that this technology will identify people with presymptomatic Alzheimer's disease, who will benefit most greatly from anti-amyloid therapeutics now in development at many major pharmaceutical companies throughout the world.
As director of the PET Research Center, Mathis works closely with more than 25 Pitt investigators on more than 70 PET research imaging protocols in animals and human subjects. These projects include neuroscience, diabetes, and oncology research studies using more than 40 different PET radiotracers to image a variety of biological processes in animals and humans.
Mathis, who has published more than 200 journal articles, has been honored with some of the most prestigious awards in Alzheimer's disease research. Among those awards are the MetLife Foundation Award in Alzheimer's Disease Research (2004) and the Potamkin Award for Alzheimer's Disease Research by the American Academy of Neurology (2008)—regarded as the "Nobel Prize of Neurology." Additionally, he received the Alzheimer's Association's Ronald and Nancy Reagan Research Award in Alzheimer's Disease in 2009. In 2010, he received the Paul Aebersold Award—one of the highest awards given by the Society of Nuclear Medicine.
Mathis received a bachelor's degree and doctorate in chemistry in 1972 and 1979, respectively, from Humboldt State University and UC Davis. He was a postdoctoral fellow from 1979-81 at Lawrence Berkeley Laboratory.
Other Stories From This Issue
There are no stories for the issue at this time.
On the Freedom Road

Follow a group of Pitt students on the Returning to the Roots of Civil Rights bus tour, a nine-day, 2,300-mile journey crisscrossing five states.
Day 1: The Awakening
Day 2: Deep Impressions
Day 3: Music, Montgomery, and More
Day 4: Looking Back, Looking Forward
Day 5: Learning to Remember
Day 6: The Mountaintop
Day 7: Slavery and Beyond
Day 8: Lessons to Bring Home
Day 9: Final Lessons