University of Pittsburgh's New 'Living Room'
Issue Date:
January 26, 2009
Renovated University Club offers opportunities for camaraderie, conference and banquet rooms, and fitness center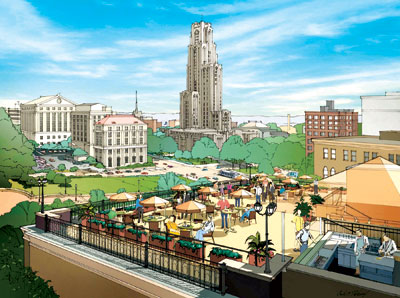 The newly renovated University Club will open its doors April 1, complete with a faculty and staff club, state-of-the-art fitness center, and dining facilities, as well as banquet and conference rooms.
Special care has been taken in renovating the historic building at 123 University Place. Designed by noted architect Henry Hornbostel, the building opened in 1923 and served as a private club until the University acquired it in 2005 for $3.1 million.
"We saw an opportunity to acquire a beautiful building, which is central to campus, at a reasonable cost that would enable us to meet some definite needs of the University and the community," said Jerome Cochran, Pitt executive vice chancellor for business and general counsel.
Some of those needs have long been known: the lack of a convenient on-campus location for conferences, meetings, and banquets, for example, as well as a club where faculty and staff can entertain guests and mingle in a social setting. Results from focus groups and a recent online survey of faculty and staff also were used to determine the building's uses and priorities for the faculty and staff club and conference center. More than 1,400 members of Pitt's faculty and staff completed the survey.
"The University Club is an important resource for Pitt departments to host conferences that showcase to external colleagues the strength of our research, scholarship, and facilities," said Pitt Provost and Senior Vice Chancellor James V. Maher. "It also provides a distinctive location on campus for developing collegiality with Pitt colleagues through conversations over coffee or while on a treadmill."
South Side-based Landmark Design Associates, selected by Pitt based upon its qualifications and experience with similar projects, designed the $20 million renovation project; Massaro Corp. is acting as the construction manager.
The finished product will contain a members-only club for faculty and staff, a health and fitness center, office space for the Office of Research, and more than 18,000 square feet for a conference center and banquet facilities. A coffee shop, the Brioche Dorée, will be open to the public. Sodexo's sports and leisure division will manage, operate, and market the club and the conference center for the University.
The University Club's upper four floors will be leased to Family House, a local nonprofit organization that provides residential housing for families of seriously ill patients receiving treatment at local hospitals. The partnership between Pitt and Family House expands Family House's capacity for serving its clients, many of whom are being treated at University-related hospitals. It also provides collaboration opportunities for students and faculty in Pitt's Schools of Medicine, Pharmacy, Health and Rehabilitation Science, and Social Work.
Some of the University Club's highlights follow.

Faculty and Staff Club
A key feature of the newly renovated building is the club for faculty and staff, recommended by individual faculty members and the Faculty Senate's Plant Utilization and Planning Committee. For many years, Pitt has been without a club—an important feature of many universities—and the desire for one was reinforced by the focus group and survey results.
In addition to first-class dining facilities, club members will enjoy such amenities as the College Room lounge for cocktails, a library and reading room with current periodicals, wireless Internet access, and special events on the Rooftop Terrace, which provides a view of the Oakland and the University. Special events, including live entertainment such as concerts and recitals, will be held in the club and on the terrace. Eli Shorak, associate vice chancellor for business, says input from members will be used to select the special events. Initial surveys indicated support for art, fashion, and cooking presentations, health lectures, and space for pre- and postgame events.
A full membership, which includes all benefits and privileges of the faculty and staff club and the fitness center, will be $45 per month. A social membership to the club (allowing access to dining; the library; and special, members-only events) will be $15 a month, while membership in the fitness facility only will be $40 per month. Academic-term memberships also will be available. These are four-month memberships designed to accommodate faculty and staff working less than a 12-month schedule. Management is developing reciprocal agreements with other universities across the country.
Fitness Center
John Jakicic, professor and chair in Pitt's Department of Health and Physical Activity, has supervised the creation of the University Club's state-of-the-art fitness center.
"One of the unique characteristics of the fitness center will be the exercise equipment, including a 12-piece resistance training circuit by Precor C-line," said Jakicic, who is also director of Pitt's Physical Activity and Weight Management Research Center. "This is a new line of equipment, and the University Club will be one of the first centers in the United States to offer it."
Jakicic says the fitness center also will offer a "wide range of fitness classes that will include yoga, Pilates, and a variety of cardio and resistance exercises." Cross-training exercise classes—such as spinning and x-biking, which are not available at other fitness centers on campus—also will be offered. Health coaches, including graduate students from the Department of Health and Physical Activity, will conduct classes and offer members assistance in their workout regimens.
The fitness center—which includes changing rooms, showers, and secured day lockers— will be open from early morning to early evening.
Banquet/Conference Facilities
The University Club will offer meeting and conference space for both small and large groups.
"This facility will bring events onto campus that departments and schools held off-campus in the past," says Shorak. "It will offer professional conferencing services, modern space accommodations, and first-class menu and dining services."
The banquet and conference facilities will be open to the University community and to the general public, and, Shorak says he expects that faculty, staff, and alumni will be interested in using the facilities. The club's proximity to Heinz Chapel will make it an attractive option for wedding receptions as well.
Already, at least eight wedding receptions—most linked to Pitt alumni or employees—and more than a dozen large meetings are scheduled for the facility, according to Sodexo. Two of the biggest meetings scheduled are a Women in Science conference in May and a celebration of 100 years of orthopedic surgery in June.
With the lease revenue Pitt receives from Family House and for office space, club and fitness center membership fees, and rentals for conferences, banquets, and receptions, the new University Club should be self-sustaining, including its debt service, according to Shorak.
"There has been a lot of planning going into this facility," he says. "We wanted to let people know that the renovations have restored the 'Wow' factor to this historic building. We want people to think of it as the 'living room' of the University."
The University Club management is planning a series of open houses this spring so faculty and staff can see the club and its amenities, along with a grand opening at a date to be determined.
For additional information, or to join the University Club, visit their Web site at www.uc.pitt.edu.
Other Stories From This Issue
There are no stories for the issue at this time.
On the Freedom Road

Follow a group of Pitt students on the Returning to the Roots of Civil Rights bus tour, a nine-day, 2,300-mile journey crisscrossing five states.
Day 1: The Awakening
Day 2: Deep Impressions
Day 3: Music, Montgomery, and More
Day 4: Looking Back, Looking Forward
Day 5: Learning to Remember
Day 6: The Mountaintop
Day 7: Slavery and Beyond
Day 8: Lessons to Bring Home
Day 9: Final Lessons