University of Pittsburgh Names 10 Legacy Laureates
By Zach Nichols
Issue Date:
November 3, 2014
The University of Pittsburgh has named 10 new Legacy Laureates—alumni recognized for their outstanding professional and personal accomplishments. The laureates were honored during Pitt's Oct. 20-26 Homecoming 2014 celebration.
Launched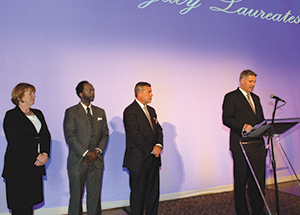 in 2000, the Legacy Laureate program honors alumni who demonstrate the pinnacle of achievement in professional and civic leadership. Brief biographies of this year's honorees follow.
Richard J. Bertz
Richard J. Bertz began his career as a clinical pharmacist. He then received his doctoral degree in pharmaceutical sciences from the University of Pittsburgh School of Pharmacy in 1995, having received a fellowship from the American Foundation for Pharmaceutical Education.
Bertz is vice president and head of clinical pharmacology and pharmacometrics at Bristol-Myers Squibb Company, where he also held a number of other positions. Previously, he was employed by Abbott, where he held several appointments, including senior research pharmacokineticist and project leader.
A recognized expert on pharmaceuticals that slow the progression of HIV, Bertz holds two patents. He has been published extensively in numerous peer-reviewed journals, and he served as a reviewer for Clinical Pharmacology in Drug Development and The Journal of Clinical Pharmacology. He has received multiple times the Abbott President's Award for exceptional contributions and the Bristol-Myers Squibb Galaxy Award for exploratory development optimization leadership.
Bertz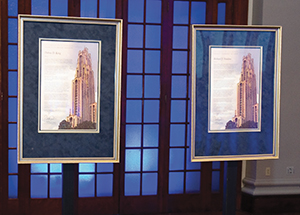 is a member of the American Society for Clinical Pharmacology and Therapeutics, the American Association of Pharmaceutical Scientists, and Rho Chi Society, an academic honor society in pharmacy. He also is a member of the Pitt School of Pharmacy Board of Visitors.
Alfredo D. Gutierrez
Alfredo D. Gutierrez was born in Cuba and raised during that Caribbean nation's revolution in the 1950s. He eventually went to live with an uncle in Cleveland, Ohio, where he met a local Pitt Club member who encouraged him to attend Pitt. In 1969, Gutierrez graduated magna cum laude with a Bachelor of Arts degree in economics from what is now the Kenneth P. Dietrich School of Arts and Sciences.
Gutierrez began his successful career in international finance at the World Bank in Washington, D.C. He subsequently moved to J.P. Morgan, where he headed, during various periods, the investment-banking operations for Eastern Europe and the former Soviet Union, and the southern region of Latin America. He also served as president of J.P. Morgan Brazil. Gutierrez is a managing partner at Miami Beach-based North Bay Equity Partners, which he cofounded in 2001.
Gutierrez is a frequent lecturer on Latin American finance, and he is active with the Bass Museum of Art, the Sea Research Foundation, Inc., and Miami Dade College. He serves on the Board of Governors Advisory Board at the University of Michigan's Rackham Graduate School.
Gutierrez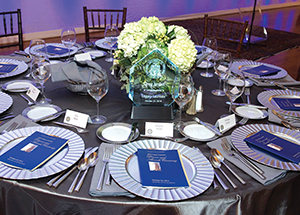 has remained very involved with Pitt since graduating, serving on the Dietrich School's Board of Visitors. He is a member of the South Florida Pitt Club and a life member of the Pitt Alumni Association.
With his wife, Luz Maria, he established The Gutierrez Fellowship in the School of Arts and Sciences, which supports doctoral students researching Latin America. He was a recipient of the University's 225th Anniversary Medallion.
Greg Jordan
Greg Jordan attended the University of Pittsburgh School of Law, where he was a member of the Order of the Coif and the University of Pittsburgh Law Review. He graduated cum laude in 1984.
His first postgraduate job was at Reed Smith LLP, where he served as director of legal personnel and of practice development before becoming global managing partner, a position he would hold for 13 years. During Jordan's tenure at the firm, Reed Smith bolstered its stature as a global competitor with revenues in excess of $1 billion and a presence in North America, Europe, and Asia.
Currently, Jordan is vice president, general counsel, and head of regulatory and government affairs at PNC Financial Services Group, Inc.
Jordan frequently speaks on law-related topics including firm leadership and growth. He has served on the boards of the Carnegie Science Center, the Allegheny Conference on Community Development, and the Leadership Council on Legal Diversity. He is board chair at Bethany College, his undergraduate alma mater, which awarded him an honorary Doctor of Laws degree.
In 2003, Jordan was named one of the top 45 lawyers under 45 by The American Lawyer. He also has been included in The Lawyer Global 100 list of the world's most influential attorneys.
Jordan has been a strong supporter of Pitt's School of Law and the Reed Smith Energy Innovation Fund. He was a recipient of the University's 225th Anniversary Medallion.
Kim Shinil
Kim Shinil has had an extensive career as a scholar and policymaker in the education field. He received his doctorate from the University of Pittsburgh School of Education in 1978.
For more than 25 years, Kim was a professor at Seoul National University in South Korea, where he established the graduate program in lifelong education for master's and doctoral degrees. Kim has been a leading advocate of adult education in South Korea, and across East Asia and beyond. He also served as the South Korean deputy prime minister and minister of education and human resources development. He has published numerous articles and books on adult education and was the founding editor of the Asia Pacific Education Review. Kim also chaired South Korea's Education Broadcasting System's viewers' panel.
Currently, Kim serves as Chair Professor of Lifelong Education at Baekseok University and is a professor emeritus at Seoul National University. He was a member of the South Korean government's Presidential Advisory Committee on Educational Reform and has served as president of the Korean Educational Research Association and the Korea Society for the Study of Education. In addition, Kim founded the East Asia Forum for Adult Education and the National Institute for Lifelong Education.
Kim has been awarded Pitt's 225th Anniversary Medallion and was inducted in 2008 into the University of Oklahoma's International Adult and Continuing Education Hall of Fame.
Debra D. King
Debra D. King holds two degrees from the University of Pittsburgh. In 1983, she graduated from the School of Social Work with a Bachelor of Science in child care and development. She received her Master of Science from the School of Information Sciences in 1985.
That same year, King joined Exxon Mobil Corporation and began working in information systems. She has remained with the company for nearly 30 years, holding positions ranging from fuels marketing manager for the Caribbean and global brand manager to retail marketing manager for the Americas, her current role.
King has been active in numerous organizations, including the United Way of Miami-Dade, the Girl Scout Council of Tropical Florida, Inc., and the Northern Virginia Urban League. She also is a member of the National Black MBA Association Inc., Alpha Kappa Alpha Sorority, Inc., and The Links, Incorporated.
For her success in both the boardroom and the community, King has received the Trumpet Awards' High Heels in High Places Award, the Howard University School of Communications' Global Visionary Leadership Award, and the Pitt School of Information Sciences' Distinguished Alumni Award.
She continues to be active in the Pitt community as a life member of the Pitt Alumni Association and as the 2012 speaker for the School of Information Sciences' commencement ceremony. She also has supported the University through her giving and by establishing the Barbara E. King Scholarship Award in honor of her mother.
Richard J. Madden
Richard J. Madden attended Mt. Lebanon High School before setting his sights on what is now the University of Pittsburgh's Swanson School of Engineering. Once enrolled in Swanson, he was determined to succeed, working extra jobs to supplement a partial scholarship. He graduated in 1956 with a Bachelor of Science in electrical engineering.
At the former Westinghouse Electric Corporation, Madden designed process-control computer hardware. In 1969, Madden and a Westinghouse colleague started Computerm Corporation, one of Pittsburgh's first technology companies. It achieved early success when Pitt invested in the firm's pioneering channel-extension technology, which was initially installed in the Cathedral of Learning.
Madden is now a committed philanthropist and an investor in start-ups. The Future Fund, which he cofounded, supports first-time technology entrepreneurs. Through the Richard J. Madden Foundation, he has supported such institutions as Children's Hospital of Pittsburgh of UPMC, the Pittsburgh Cultural Trust, and Mt. Lebanon High School.
Madden's philanthropy also extends to Pitt, where he has created the Richard J. Madden Foundation Scholarship in the Swanson School of Engineering and the Thomas H. Madden Jr. Scholarship in the Department of Chemical and Petroleum Engineering. He has been an active member of the Pitt Alumni Network of Western Pennsylvania in addition to serving on the Swanson School's Board of Visitors.
Madden has been awarded the Mt. Lebanon High School Great Alumni Award and the Swanson School's Distinguished Alumni Award.
Diane Peterson
Diane Peterson studied human genetics at the University of Pittsburgh before enrolling in the health administration program at the Graduate School of Public Health, where she earned her Master of Public Health in 1975.
Peterson has since spent her career working in health care leadership positions, including serving as vice president of operations at Sewickley Valley Hospital (now Heritage Valley Sewickley) and as executive vice president, corporate development, for St. Luke's Episcopal Hospital and the Texas Heart Institute, both part of Houston's Texas Medical Center. Currently, she is president of D. Peterson & Associates, a health care consulting firm she founded in 1987.
Peterson has served on Chatham University's Board of Trustees as well as on the board of the Institute for Diversity in Health Management. She is a fellow of the American College of Healthcare Executives, whose governing board she chaired—the first woman in 50 years to serve in that position and one of only five women to do so.
Peterson has been honored by numerous organizations, including the American College of Healthcare Executives, which presented her with its Regent's Award and its Gold Medal Award, the organization's highest honor. Modern Healthcare magazine recognized her as one of the "100 Most Powerful People in Healthcare" in 2002.
At Pitt, she has remained a dedicated alumnus—giving generously to the Graduate School of Public Health, volunteering on its Board of Visitors, and serving as a member and chair of its Department of Health Policy and Management's national advisory committee. For her many successes, she has received Pitt's 225th Anniversary Medallion and the school's Distinguished Alumni Award.
Daniel Rich
Daniel Rich enrolled in the University of Pittsburgh Graduate School of Public and International Affairs (GSPIA) after beginning a career in real estate. At GSPIA, Rich served as an instructor and an assistant to the director of the Division of Special Training before graduating in 1966 with a Master of Public and International Affairs degree.
He earned a doctorate at the Massachusetts Institute of Technology before accepting a faculty position at the University of Delaware. There, he was the founding dean of the university's College of Human Services and, currently, is University Professor of Public Policy. From 2001 until 2009, he also served as the University of Delaware's provost.
Rich has served on the boards of the Delaware Public Policy Institute and Nemours Health & Prevention Services in addition to leading the Knowledge-Based Partnership Conference series at the University of Delaware.
For his contributions to areas of policy study and advocacy work, Rich has received a number of awards, including the University of Delaware's Medal of Distinction and Excellence in Teaching Award and GSPIA's Distinguished Alumnus Award. Additionally, the University of Delaware's Dan Rich Chair of Energy was named in his honor.
At Pitt, Rich has been an active alumnus, serving on GSPIA's Board of Visitors and establishing the Marshall Singer Endowed Student Resource Fund, which supports GSPIA students.
Robert D. Wells
Robert D. Wells is the Welch Foundation and Regents Professor Emeritus at the Texas A&M Health Science Center's Institute of Biosciences and Technology, an entity of which he is the founding director.
Wells received his doctorate from the Pitt School of Medicine in 1964, and subsequently accepted a postdoctoral fellowship with H. Gobind Khorana, whose research team shared a Nobel Prize for deciphering the genetic code.
Wells went on to enjoy a distinguished career pioneering the study of nontraditional DNA structures. He held professorships, directorships, and appointments at several institutions, including Texas A&M University, the University of Alabama at Birmingham, the Salk Institute for Biological Studies, the University of California, San Diego, the University of Wisconsin-Madison, and the University of Texas MD Anderson Cancer Center. Additionally, he has been an advisor to dozens of doctoral candidates and has trained more than 60 postdoctoral fellows.
Wells has been active in numerous professional societies and served as president of both the American Society for Biochemistry and Molecular Biology and the Federation of American Societies for Experimental Biology.
A widely published author of more than 300 articles, books, and book chapters, Wells has receive many honors, including the Medal of the University of Lodz, Poland, and the Distinguished Achievement Citation from the Ohio Wesleyan University Alumni Association.
Kenneth R. Woodcock
Kenneth R. Woodcock earned his Master of Business Administration degree in 1966 at what is now Pitt's Joseph M. Katz Graduate School of Business.
Upon graduation, he began a long and successful career in civil service. He served as a second lieutenant in the U.S. Public Health Service before moving to the U.S. Environmental Protection Agency to work as an engineer. He became an administrator in the former Federal Energy Administration and then served as an executive assistant in the U.S. Department of Energy.
After leaving government service, Woodcock moved into the private sector, helping to found the AES Corporation, an electricity generation and distribution company. Through his work, AES grew into a large international firm with business on five continents. In 2004, he retired as senior vice president for external affairs.
Woodcock has been an avid supporter of many organizations, such as the Business Council for International Understanding, the Choral Arts Society of Washington, the National Council of the World Wildlife Fund, and the Washington Concert Opera. He also chairs the capital campaign of the National Trust for Historic Preservation.
Woodcock is an emeritus member of the Katz School's Board of Visitors. He established the Katz School's Woodcock Faculty Development Fund, which supports the Global Corporate Social Responsibility Project, and the Kenneth R. Woodcock Leadership Fellows Program. He has received the University of Pittsburgh's 225th Anniversary Medallion and the Katz School's Distinguished Alumnus Award, and he is a member of the Cathedral of Learning Society.
Other Stories From This Issue
There are no stories for the issue at this time.
On the Freedom Road

Follow a group of Pitt students on the Returning to the Roots of Civil Rights bus tour, a nine-day, 2,300-mile journey crisscrossing five states.
Day 1: The Awakening
Day 2: Deep Impressions
Day 3: Music, Montgomery, and More
Day 4: Looking Back, Looking Forward
Day 5: Learning to Remember
Day 6: The Mountaintop
Day 7: Slavery and Beyond
Day 8: Lessons to Bring Home
Day 9: Final Lessons