Issue Date:
August 19, 2008
To: The University Community
From: Chancellor Mark A. Nordenberg
Date: July 22, 2008
Re: Fiscal 2009 Operating Budget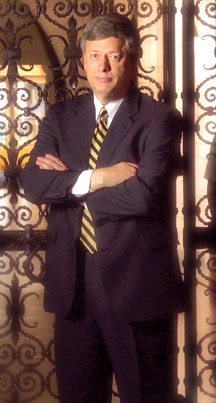 Mark A. Nordenberg
The year just closed was another period of exceptional progress for Pitt, and we enter the new year with great momentum. Among other things, both the academic stature and the fiscal health of the University were boosted by the fact that we reached historic highs in such mission-critical areas as applications for admission and research funding. Also, as private support has become increasingly important not only for Pitt but for all of American higher education, it is noteworthy that last year's fundraising efforts produced institutional records in terms of total voluntary support, individual support, foundation support, and total number of donors; attracted the largest gift in our history; and pushed our capital campaign past the $1.25 billion mark.
Even as we celebrate these achievements, though, we continue to move through times that are presenting serious fiscal challenges. While our financial team has done an exceptional job of protecting our assets, avoiding problems that plagued many strong institutions, the growth of our endowment obviously will be impeded by the overall state of the economy. Dramatically rising costs in expense areas ranging from energy to food also will affect our institutional budget, just as they affect the budgets of the individuals and families who make up the Pitt community.
Adding to these more general challenges is the fact that Commonwealth funding for Pennsylvania's public research universities continues to lag well behind the levels of support provided to most of our competitor universities by the governments of their home states. This is not a new problem. The Commonwealth appropriation amounted to 32 percent of our overall budget in the mid-1970's, shrunk to less than 20 percent by the mid-1990's, and is just 11 percent of our budget today.
To be clear, the overall rate of Commonwealth spending has not been shrinking. Instead, from 2001 through the current fiscal year, the Commonwealth budget increased by more than 40 percent, though our appropriation increased by only 6.7 percent. That low, single-digit increase also compares unfavorably with inflation, which will have risen by about 30 percent over that same period-measured by the Consumer Price Index, while the increase in the Higher Education Price Index will be even higher. To take a single example illustrating the pressures this creates, our utility expenses have grown by nearly $31 million since 2001, while our appropriation has increased by less than $12 million during that period.
This year's Commonwealth budget exacerbated those trends. In a year in which the overall Commonwealth budget grew by 4 percent, Pitt's appropriation increased by only 1.4 percent. This prompted sympathetic legislators from both political parties to observe that Pennsylvania's public research universities clearly were not a Commonwealth funding priority-despite the key contributions we continue to make, not only through education and research but also through our public service initiatives and as an engine for regional economic development. Returning to the single expense example of utilities, we have budgeted for a $7.7 million cost increase for the new fiscal year, which means that our increased costs in that one area are expected to be more than $5 million larger than our entire appropriation increase.
Dealing with these troubling trends has not been easy, either for the members of the University Planning and Budgeting Committee (UPBC)-which includes administrative, faculty, staff, and student representation-or for the University's senior management team. However, the budget recommended to and recently approved by the Budget and Executive Committees of our Board of Trustees is the product of committed and creative efforts to ensure that we can continue making investments that are essential to our progress. To give just a few examples, that budget provides for new investments in student-life programming, high-potential research initiatives, and campus safety.
Controlling tuition increases and providing the best possible salary-increase pool also were high priorities throughout the budget-building process. On the tuition front, as already has been publicized, tuition for Pennsylvania residents enrolled at the Pittsburgh campus will increase by 6 percent, while tuition for out-of-state students at that campus will increase by 4 percent. At our regional campuses, tuition for in-state students will increase by 4 percent and for out-of-state students by 2 percent. Tuition for both in-state and out-of-state students enrolled in the School of Dental Medicine and School of Medicine will increase by 4 percent.
We expect that increases at this level will be in line with increases at like institutions. It also is important to note that some meaningful relief from these increases will be provided by increases to our financial aid budget and from support produced by our fundraising efforts. From 1998 to 2008, we raised more than $150 million for scholarships and fellowships, and we have made attracting such support an even higher priority in our ongoing capital campaign.
Believing that compensation should be a high priority but recognizing that any increases to our Commonwealth appropriation likely would be very modest, the UPBC recommended that the budget contain a 3.75 percent salary-increase pool and further urged that any additional funds made available as the Commonwealth budget was finalized be added to the salary-increase pool as a first priority. The UPBC further recommended that salary-increase funds be distributed on the following basis: 2.25 percent for all employees whose work has been rated as satisfactory; 1.0 percent for merit, market, and equity adjustments to be made at the unit level; and 0.5 percent to be distributed by senior officers to address market imbalances between various units of the University.
Unfortunately, no new Commonwealth funds were forthcoming. However, other adjustments permitted us to raise the salary-increase pool to 4 percent. That somewhat larger pool will be distributed as follows: 2.5 percent for all employees whose work has been rated as at least satisfactory; 1.0 percent for merit, market, and equity adjustments to be made at the unit level; and 0.5 percent to be distributed by senior officers to address market imbalances between various units of the University. For continuing members of the faculty and staff, any increases awarded will be retroactive to July 1 and will first appear in September paychecks.
Because the tone of parts of this update has been somewhat somber, let me return to my opening message. The past year was another year of great progress for Pitt. I am grateful to each of you for your contributions to our ongoing record of success, extend my very best wishes for the remaining weeks of summer, and look forward to working with you in the year ahead.
Other Stories From This Issue
There are no stories for the issue at this time.
On the Freedom Road

Follow a group of Pitt students on the Returning to the Roots of Civil Rights bus tour, a nine-day, 2,300-mile journey crisscrossing five states.
Day 1: The Awakening
Day 2: Deep Impressions
Day 3: Music, Montgomery, and More
Day 4: Looking Back, Looking Forward
Day 5: Learning to Remember
Day 6: The Mountaintop
Day 7: Slavery and Beyond
Day 8: Lessons to Bring Home
Day 9: Final Lessons