UPB Announces $1 Million Gift for Chapel
By Kimberley Marcott Weinberg
Issue Date:
May 27, 2008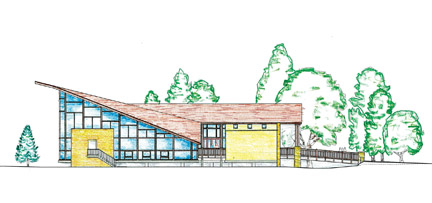 The University of Pittsburgh at Bradford has received in honor of Harriett B. Wick a $1 million gift from anonymous donors to build on campus an interfaith chapel. The announcement was made at a campus luncheon, where the design of the chapel was unveiled.
"We are delighted and honored to receive this gift," said Pitt-Bradford president Livingston Alexander. "This lead gift will assist us in securing the balance of funds needed to build this chapel," he added.
Part of Pitt-Bradford's master plan for several years, the chapel will provide a site for religious services, weddings, memorial services, receptions, and small choral and musical performances.
The chapel also will be used on those special occasions when there is a need to call the campus community together for significant moments in the life of the college or of individuals within it. In addition, the chapel will be available to students, employees, and guests of the University for private reflection on a daily basis.
The chapel's location, overlooking Tunungwant Creek on the west side of campus, was selected for its woodland setting. The chapel will feature a sanctuary seating about 150 people, a high ceiling, a hardwood floor, and space for a pipe organ and choir.
Albert Filoni—president of MacLachlan, Cornelius and Filoni Architects Inc. of Pittsburgh—designed the chapel; his firm also designed the renovation and expansion of Pitt Bradford's Frame-Westerberg Commons and Blaisdell Hall. University officials hope to break ground for the chapel in the fall.
Private funding is the only source of money that will be used for the chapel's construction. So, Pitt-Bradford is launching a fundraising campaign to raise the money needed to build the chapel, whose estimated cost is approximately $2.5 million. The campaign will include a number of naming opportunities inside the chapel, including the sanctuary.
Harriett Wick served as vice president and secretary of Zippo Manufacturing Co., which was founded by her father, George G. Blaisdell, in Bradford in 1932. She and her sister, Sarah B. Dorn, assumed ownership of the company following their father's death in 1978. In 1999, Wick and her children sold their shares of the company to Dorn and her sons.
Through the Philo and Sarah Blaisdell Foundation, the sisters have given funds to Pitt-Bradford for capital improvements. As part of Campaign 2000, which is the Pitt-Bradford component of Pitt's $2 billion Building Our Future Together fundraising campaign, the Blaisdell family provided a $1.5 million challenge gift to complete the campus' communications building and fine arts center named in their honor.
In 1980, Wick and Dorn established the Miriam Barcroft Blaisdell Scholarship at Pitt-Bradford in honor of their mother to help support approximately 65 students every year. More than 2,000 students have benefited so far from the scholarship.
Wick and Dorn received the University of Pittsburgh at Bradford Presidential Medal of Distinction in 1993.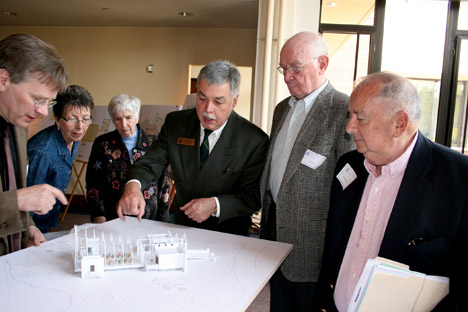 Other Stories From This Issue
There are no stories for the issue at this time.
On the Freedom Road

Follow a group of Pitt students on the Returning to the Roots of Civil Rights bus tour, a nine-day, 2,300-mile journey crisscrossing five states.
Day 1: The Awakening
Day 2: Deep Impressions
Day 3: Music, Montgomery, and More
Day 4: Looking Back, Looking Forward
Day 5: Learning to Remember
Day 6: The Mountaintop
Day 7: Slavery and Beyond
Day 8: Lessons to Bring Home
Day 9: Final Lessons