UPG Student's Story Featured on ESPN
Issue Date:
December 10, 2007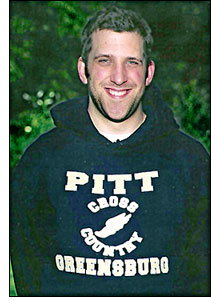 Cross-country runner fought back after being diagnosed with a brain tumor
A 2004 car accident was a classic blessing-in-disguise for Aaron Slafka. Now a senior majoring in political science at the University of Pittsburgh at Greensburg, he wasn't seriously hurt, but he also didn't ignore the dizzy spells he started to experience in the days following the incident.
That's when he was sent for an MRI, which revealed a benign brain tumor growing near his pituitary gland that would need to be removed.
For Slafka, a runner on the UPG cross country team, the news became much worse when doctors informed him that he'd have to stop training altogether until he could recover from the procedure.
"I was in the best shape of my life," Slafka said. "I was running 10 miles a day. Running was always something I did to relieve all my stress and to leave all my problems behind."
But he never lost his optimism and determination, which proved to be an inspiration to his teammates, coaches, and classmates.
His story was the focus of a recent segment of ESPN's "NCAA on Campus."
The initial surgery was performed through his nose, and the tumor was removed. But a second surgery was required to repair damage caused to his nose by the first procedure.
Afterward, he developed infections, began to have seizures, and experienced paralysis in his left arm and leg. Two more surgeries were required to treat the infection. Slafka spent almost a month and a half in a hospital intensive care unit, and he still experiences seizures.
UPG cross-country coach Joyce Brobeck recalled some of the other runners telling her of Slafka's determination to keep training both before and after his medical ordeal. "The other runners were telling me, 'Coach, Aaron's still running. We see him at 11 at night, running around campus.'"
He rejoined the cross-country team in 2005, despite running much slower than before his tumor was discovered.
"It didn't matter to me that it took longer to finish a race," Slafka said. "I was determined to finish."
Because of his recurring seizures, Slafka is not running this season. But he's as busy as ever with duties as president of UPG's Student Government Association. After graduation in April, Slafka plans to run for public office.
Slafka says he hopes others facing difficult circumstances are inspired by his story. "No matter what, you have to live each day to the fullest," he said.
To see video of Slafka's story as it appeared on ESPN, go to www.ncaa.org, click on "Video," then scroll to "On Campus TV Show."
Other Stories From This Issue
There are no stories for the issue at this time.
On the Freedom Road

Follow a group of Pitt students on the Returning to the Roots of Civil Rights bus tour, a nine-day, 2,300-mile journey crisscrossing five states.
Day 1: The Awakening
Day 2: Deep Impressions
Day 3: Music, Montgomery, and More
Day 4: Looking Back, Looking Forward
Day 5: Learning to Remember
Day 6: The Mountaintop
Day 7: Slavery and Beyond
Day 8: Lessons to Bring Home
Day 9: Final Lessons