UPJ's Spectar Calls for Global, Local Balance
Issue Date:
October 8, 2007
New president's installation caps campus' 80th anniversary celebration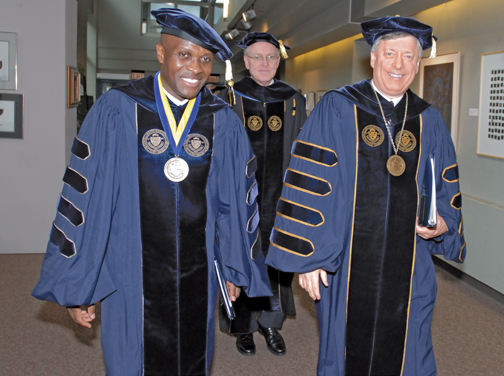 From left: Jem Spectar, newly installed president of UPJ; Pitt Provost and Senior Vice Chancellor James V. Maher; and Chancellor Mark A. Nordenberg.
The University of Pittsburgh at Johnstown combines the academic and research strengths of its parent institution with the resiliency of its host community, the campus' newly installed president said Sept. 28.
"We believe the University and the city are yoked together, their joint and several fortunes rising with the tides, their harvest a shared bounty of hopes and dreams fulfilled," said Jem Spectar during his inaugural address at Pasquerilla Performing Arts Center.
Spectar, whose previous academic posts have included provost of Western Oregon University and associate provost of academic affairs at the University of Scranton, became Pitt-Johnstown's fifth president on July 1. His formal installation before faculty, students, alumni, and invited guests was the highlight of a weeklong celebration of the campus' 80th anniversary.
Pitt Chancellor Mark A. Nordenberg joined Provost and Senior Vice Chancellor James V. Maher, E. Jeanne Gleason of the University's board of trustees, and other academic leaders at the inauguration. Nordenberg called Spectar a "man of the world" with a "locally focused" leadership style.
"Our new president is a person who is committed to ensuring that this campus realizes its even greater potential," Nordenberg said.
A native of Cameroon, West Africa, Spectar holds a BA degree in international studies from the University of La Verne in California, an MBA degree from Frostburg State University in Maryland, an MA degree from George Washington University, a JD degree from the University of Maryland Law School, and an MA degree in politics and a PhD in political science from Claremont Graduate University in California.
Spectar is a widely published scholar in the fields of international law, jurisprudence, legal research, and the politics of HIV/AIDS education and treatment in Africa. While teaching at the University of La Verne's College of Law, he was named Professor of the Year in 1995 and received the Professor of Distinction award in 1998.
In his inaugural address, Spectar laid out his vision for what he called a "New Dimension of Excellence" that will keep Pitt-Johnstown competitive in the global economy and ensure that graduating students are equipped to meet worldwide challenges such as pandemics, terrorism, and climate change.
"Our young men and women today will be living in an exponentially altered world tomorrow," Spectar said. UPJ graduates must be "globally literate and inter-culturally competent," he said, adding that the campus' "scholars, learners, and leaders" are "duty-bound" to create what he called a "more distinctive interdisciplinary community of inquiry" in Johnstown.
"We will purposefully and actively connect traditional arts and sciences education to the unfolding exigencies of a changing world, beginning with our city, our community, and beyond," Spectar said.
This global focus, he said, must be balanced with improvements to UPJ's infrastructure and a renewed effort to connect the campus to the Johnstown region. Pitt-Johnstown is a "robust catalyst" for economic development that can help strengthen central Pennsylvania by filling the need for qualified professionals in health care, education, science, technology, and business, Spectar said.
"We will foster a service-oriented ethos where concern for the fundamental long-term interests of students—and best practices—are paramount," he said, adding that among his goals are increased support for job placement, "more effective" freshman advising, improved residential and extracurricular activities, and upgrading UPJ's facilities after benchmarking them against peer institutions.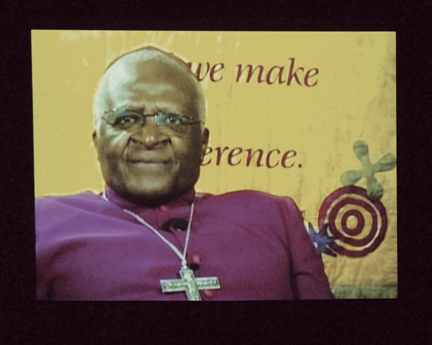 Nobel Peace Prize-winner Desmond Tutu congratulates Spectar via videotape.
Befitting Spectar's global vision, congratulatory messages were received from college and university presidents and world leaders, including former U.S. President Bill Clinton, Liberian President Ellen Johnson Sirleaf, and Nobel Peace Prize winner Desmond Tutu.
Tutu, the Anglican archbishop emeritus of Cape Town, South Africa, who was a leader of that nation's struggle against apartheid, delivered his congratulations to Spectar in a videotaped speech shown to the audience. "One of the most valuable exports from Africa are her people," he said. "You will find them in universities across the globe where they are making a distinguished contribution to academia."
After congratulating UPJ on its 80th anniversary, Tutu predicted that students under Spectar's guidance "will make a substantial and positive difference to the world."
When it was founded in 1927, Pitt's "Johnstown Junior College" occupied a few rooms in the west wing of Johnstown Senior High School. In 1946, the University of Pittsburgh at Johnstown moved to its first permanent home at the former Cypress Avenue Elementary School (students nicknamed it "the asphalt campus" because of the lack of traditional "ivy-covered" college buildings). It remained there until relocating to its present 635-acre campus in suburban Richland Township in 1967.
Today, Pitt-Johnstown is the largest employer in Cambria County. A fully accredited institution granting a wide range of four-year degrees, UPJ has 2,700 full-time students, 450 part-time students, 70 student organizations, 143 faculty members, and 17,000 alumni.
The anniversary celebration coincided with UPJ's Homecoming, which included the traditional parade and crowning of the Homecoming queen. Special events to mark the 80th anniversary included the unveiling of the "Memory Lane" historical exhibit in the Student Union, a community picnic in Johnstown's Central Park, and luncheons for business leaders, retired faculty and staff, and alumni.
On Sept. 30, five alumni were inaugurated into UPJ's new Athletics Hall of Fame at the Living/Learning Center. The 2007 hall-of-famers are Lisa Britt '80, women's basketball; Sean Isgan '82, wrestling; Carl Sax '58, men's basketball; Edward Sherlock '61, men's basketball and athletic director; and James Wilkes '54, men's basketball.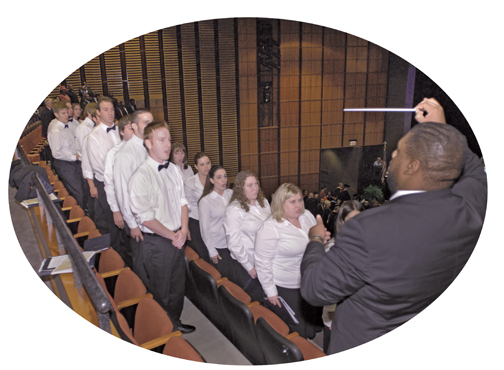 The UPJ Choir performs under the direction of music and director of choral activities.
Other Stories From This Issue
There are no stories for the issue at this time.
On the Freedom Road

Follow a group of Pitt students on the Returning to the Roots of Civil Rights bus tour, a nine-day, 2,300-mile journey crisscrossing five states.
Day 1: The Awakening
Day 2: Deep Impressions
Day 3: Music, Montgomery, and More
Day 4: Looking Back, Looking Forward
Day 5: Learning to Remember
Day 6: The Mountaintop
Day 7: Slavery and Beyond
Day 8: Lessons to Bring Home
Day 9: Final Lessons