UPMC Wins Approval to Use Ventricular Assist Device for Heart Failure Patients
By Maureen McGaffin
Issue Date:
October 20, 2008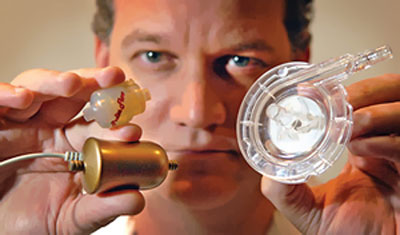 UPMC has received The Joint Commission's Gold Seal of Approval™ for ventricular assist device (VAD) support for destination therapy, which is heart support for patients with end-stage heart disease who are not candidates for heart transplantation. Previously, VADs were primarily used as a bridge to heart transplant, but as clinical experience has demonstrated, they have become a viable treatment option for those patients with end-stage heart disease without compromising quality of life.
The Joint Commission is an independent, nonprofit organization that accredits and certifies more than 15,000 health care organizations and programs in the United States. Its Gold Seal of Approval is considered the highest achievement of quality and compliance.
"Ventricular assist devices now are recognized by the Centers for Medicaid Services as practical surgical treatments for patients with severe heart disease for programs approved by the Joint Commission," says Robert Kormos, a professor of surgery in the University of Pittsburgh School of Medicine and director of the UPMC Artificial Heart Program. "As the pumps continue to get smaller, that also translates to shorter hospital stays, shorter recovery time, and better overall quality of life."
Since the UPMC Artificial Heart Program was developed in 1985, more than 450 patients have been supported with some type of mechanical circulatory device, many of whom went on to receive heart transplants and are still alive today.
Heart pumps are used in patients whose hearts are failing but who are not suitable candidates for heart transplantation owing to age or other serious medical conditions. They provide relief and support to the heart by reducing cardiac workload and allowing the heart to rest. In some instances, heart pumps can also be used as a "bridge to heart transplantation" until a suitable organ can be found.
UPMC presently uses several different types of heart pumps and assist devices in patients, some of which University of Pittsburgh researchers cocollaborated on. The size and condition of the patient generally determine which particular heart pump will be used.
UPMC also has been instrumental in, and a leading recruiter of, patients enrolled in heart pump clinical studies, including a multicenter U.S. clinical trial to test the safety and feasibility of Heartmate II and the VentrAssist as destination therapy.
Most recently, UPMC is part of the Pediatric VAD Consortium, a team of investigators at the University of Pittsburgh, Carnegie Mellon University, and Children's Hospital of Pittsburgh of UPMC, working to develop the world's first Pediatric Ventricular Assist Device (PVAD). The device is a novel mechanical circulatory support system for infants and very small children with congenital or acquired cardiac disease, allowing them to remain completely mobile while receiving the PVAD. If successful, the device would be the first one designed specifically to provide long-term cardiac support to these infants and toddlers, for whom no technology currently exists.
Other Stories From This Issue
There are no stories for the issue at this time.
On the Freedom Road

Follow a group of Pitt students on the Returning to the Roots of Civil Rights bus tour, a nine-day, 2,300-mile journey crisscrossing five states.
Day 1: The Awakening
Day 2: Deep Impressions
Day 3: Music, Montgomery, and More
Day 4: Looking Back, Looking Forward
Day 5: Learning to Remember
Day 6: The Mountaintop
Day 7: Slavery and Beyond
Day 8: Lessons to Bring Home
Day 9: Final Lessons