U.S. Army, Pitt to Display Medical Expertise in Exhibition
By Adam Reger
Issue Date:
August 22, 2016
The University of Pittsburgh will hold a Sept. 2 exhibition to showcase the U.S. Army's medical expertise and Pitt researchers' cutting-edge work in rehabilitation technology for wounded service members.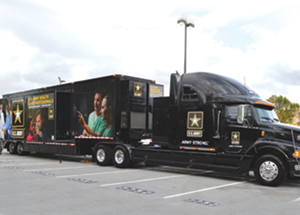 The event, to be held on Bigelow Boulevard between the Cathedral of Learning and the William Pitt Union, will be open to the public from 8 a.m. to 7 p.m. Visitors will be able to tour several large mobile Army demonstration units, including an Army medical marketing semitrailer staffed by U.S. Army representatives. It will highlight, among other care innovations, an electro-current bandage and a noise-cancelling stethoscope. A second mobile unit will present videos of Army medicine. Also on display for touring will be a large tent, called a Deployable Rapid Assembly Shelter (DRASH), that can be used near a battlefield as a mobile medical or surgical center.
Researchers from Pitt's Human Engineering Research Laboratories (HERL) will display advances in rehabilitation technology, such as computer-driven wheelchairs and other transport mechanisms for assisting service members with disabilities. Faculty and researchers from HERL will discuss School of Health and Rehabilitation Sciences research that is sponsored by the military and the U.S. Department of Veterans Affairs. HERL is part of Pitt's School of Health and Rehabilitation Sciences and School of Medicine.
The event will also celebrate the 100th year of Pitt offering Reserve Officers' Training Corps (ROTC) participation for its students. ROTC cadets will be available to answer questions about the program.
"The University of Pittsburgh is a military-friendly school. This celebration of military medicine recognizes the attractiveness and accomplishments of Army medicine as a professional health care career opportunity," said Loren Roth, associate senior vice chancellor for clinical policy and planning in Pitt's schools of the health sciences and a Distinguished Service Professor of Psychiatry in the School of Medicine.
The exhibit's intent, Roth said, is to help visitors better understand the special features and challenges of military medicine, both on and off the battlefield. The army is always in need of physicians, nurses, dentists, and other medical personnel, and event organizers hope the demonstration can also serve as a recruiting tool.
The greater Pittsburgh region has the fourth-largest contingent of military veterans in the United States, Roth said. He added that the event is an opportunity to celebrate the contributions made by veterans of all military branches. He hopes that the event's visibility may attract veterans to Pitt, both as students and employees.
Planning for the Sept. 2 demonstration began two years ago at the request of Rory Cooper, the FISA/Paralyzed Veterans of America Endowed Chair and Distinguished Professor in the School of Health and Rehabilitation Sciences, and Arthur S. Levine, Pitt's John and Gertrude Petersen Dean of Medicine and senior vice chancellor for the health sciences. Roth worked with the U.S. Army Pittsburgh Medical Recruiting Company, as well as a number of University partners, to bring the event to campus.
Other Stories From This Issue
There are no stories for the issue at this time.
On the Freedom Road

Follow a group of Pitt students on the Returning to the Roots of Civil Rights bus tour, a nine-day, 2,300-mile journey crisscrossing five states.
Day 1: The Awakening
Day 2: Deep Impressions
Day 3: Music, Montgomery, and More
Day 4: Looking Back, Looking Forward
Day 5: Learning to Remember
Day 6: The Mountaintop
Day 7: Slavery and Beyond
Day 8: Lessons to Bring Home
Day 9: Final Lessons