U.S. Congressman Murtha Is Inaugural Recipient Of Pitt-Johnstown's Distinguished Alumni Award
Issue Date:
June 9, 2008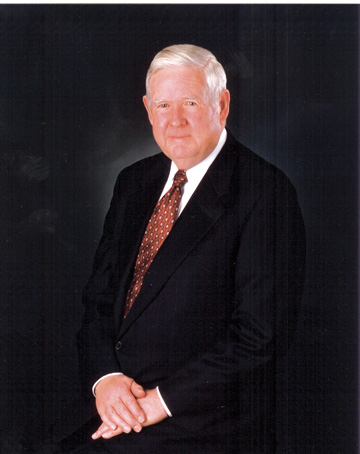 U.S. Congressman John P. Murtha (PA-12) will be the inaugural recipient of Pitt Johnstown's Distinguished Alumni Award, Pitt-Johnstown President Jem Spectar has announced. Murtha will be presented with the award at a reception in his honor during the school's 2008 homecoming festivities, scheduled for Sept. 26 and 27.
"Through his exemplary record of transformational service to our community and country, Congressman Murtha is clearly a most distinguished alumnus, and we are honored and proud to bestow this honor upon him," Spectar commented in announcing the award. "Mr. Murtha is a strong voice for what is great and good about America, and he has worked tirelessly on behalf of the people of our region. His life's work has reflected the values and principles of service to community, care for country, and courage in facing challenges. His great work benefits not only our local community, but also our entire nation. The congressman exemplifies all of the traits that this award recognizes, and he is a truly deserving citizen and alumnus."
The new award, established by the Pitt-Johnstown Alumni Association, is the highest honor that the school bestows upon its alumni. It will annually recognize alumni for individual achievements, leadership in their professions, service to their community, and loyalty to their alma mater. The award was created to celebrate the excellence and achievements of the more than 17,000 Pitt-Johnstown alumni.
Murtha, who graduated from Pitt's College of Arts and Sciences in 1961, attended the Johnstown campus for the first two years of his studies after active duty service in the U.S. Marine Corps. From 1966 to 1967, he volunteered to serve in Vietnam, where he received the Bronze Star with Combat "V," two Purple Hearts, and the Vietnamese Cross of Gallantry.
In addition to having had a distinguished 37-year record of service in the U.S. Marine Corps (upon his 1990 retirement from the Marine Corps Reserve as a colonel, the Commandant of the U.S. Marine Corps awarded him the Navy Distinguished Service Medal), Murtha has served the people of Pennsylvania's 12th Congressional District since 1974. During his time in the House of Representatives, he has been instrumental in redefining the region's economy following the decline of the mining and steel industries. He has helped to create thousands of family-sustaining jobs in Western Pennsylvania in such areas as health care, tourism, and technology.
As a loyal alumnus, Murtha established the John P. and Joyce Murtha Center for Continuing Education and Professional Development at Pitt-Johnstown, which has created opportunities for students in the region to pursue graduate-level degrees. Since its creation in 1994, the center has enabled 122 students from a nine-county region to earn Master of Social Work degrees; in addition, students not only have earned Master of Science in Manufacturing Systems Engineering degrees, but also are able to pursue advanced nursing degrees as acute care nurse practitioners and family nurse practitioners, thus helping to fill the shortage of credentialed health care professionals.
In his role as a strong advocate for the region's citizens, Murtha has championed such causes as a patient's bill of rights, prescription-drug benefits, and a higher minimum wage. He has worked to protect Medicare, Social Security, veterans' benefits, and Pennsylvania's Children's Health Insurance Program (CHIP). He was a driving force behind the effort to secure Medicare coverage for such preventive health care measures as mammograms and flu shots.Among Murtha's many honors are the John F. Kennedy Profile in Courage Award, the National Breast Cancer Coalition Leadership Award, the Pennsylvania Chamber of Business and Industry's Government Leader of the Year, Pittsburgh's Riverperson of the Year, and Pennsylvania's two highest honors—the Distinguished Service Medal and the Meritorious Service Medal.
To be eligible for the Distinguished Alumni Award, candidates either must have earned a bachelor's or associate's degree from the University of Pittsburgh at Johnstown or must have earned a bachelor's degree from the University of Pittsburgh after the completion of two years of study at Pitt-Johnstown during the pre-1972 period, when four-year degrees were not available on the Johnstown campus. Nominations for the award may be submitted by any member of the University of Pittsburgh community, including alumni, faculty, staff, students, and advisory board members.
"I am most thankful to the members of the Pitt-Johnstown Alumni Association for their fine work in creating this important award and for their ongoing support of the University and our alumni, students, and friends," remarked President Spectar.
Other Stories From This Issue
There are no stories for the issue at this time.
On the Freedom Road

Follow a group of Pitt students on the Returning to the Roots of Civil Rights bus tour, a nine-day, 2,300-mile journey crisscrossing five states.
Day 1: The Awakening
Day 2: Deep Impressions
Day 3: Music, Montgomery, and More
Day 4: Looking Back, Looking Forward
Day 5: Learning to Remember
Day 6: The Mountaintop
Day 7: Slavery and Beyond
Day 8: Lessons to Bring Home
Day 9: Final Lessons