A Vibrant Campus Embraces Diverse Cultures
By Ervin Dyer
Issue Date:
December 7, 2015
Autumn came to Oakland in November, splashing its rainbow of colors on the local trees in the glow of many-hued activities across campus.
The range of events reflects the value of diversity and inclusion in campus life and shows how they become resources that drive education, innovation, and understanding. The photographs here showcase four activities, offering a small sampling of how Pitt values a global perspective and an inclusive campus culture that respects difference.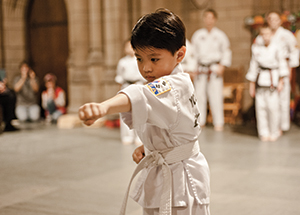 Room to celebrate: Amid displays of Tae Kwon Do, the sounds of the sogo drums and gongs, and singing, the University of Pittsburgh's Korean Heritage Classroom was unveiled to the public during a dedication ceremony and a Korean cultural festival on Nov. 15. The classroom is one of Pitt's 30 Nationality and Heritage Rooms and the first new room to open since 2012. Local Korean-American women gathered in their colorful hanboks (dresses) and marveled at the room's architecture, inspired by the Hall of Enlightenment in one of South Korea's premier universities.
Wide, wonderful world: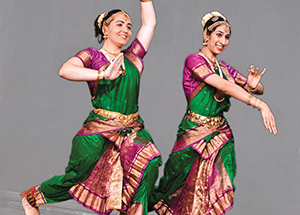 Pitt kicked off its International Education Week on Nov. 14. One highlight was the Nov. 19 Cultural Carnival. The free annual event, cosponsored by the Pitt Global Ties program and the English Language Institute, offered a taste of food and languages from around the world. In the William Pitt Student Union, participants could create Mardi Gras masks while watching performances at the World Dance Showcase. Fun, sure, but International Education Week also seeks to ensure that students understand the value of global learning, intercultural diversity of campus life, and international educational exchange. The week also promotes working and studying abroad.
Focus on the African American family:
More than 150 people—including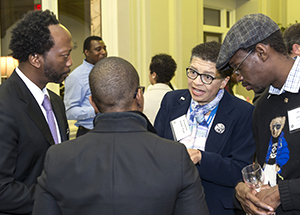 a broad range of educators, community service providers, and foundation
leaders—came to the University Club on Nov. 19 to discuss ways to strengthen and support the African American family. Pitt's Jeannette South-Paul was a key presenter. South-Paul, the Andrew W. Mathieson Professor and chair of the Department of Family Medicine at Pitt, discussed how transformative approaches to programming can build strong families and are essential for building a strong community.

Nous aimons Paris: In song and music, reflection and tribute, about 300 people, including Pitt Chancellor Patrick Gallagher, came together on Nov. 19 to show support for the people of Paris and France in the aftermath of recent terror attacks in the City of Light. Forbes Quadrangle, between Wesley W. Posvar Hall and Hillman Library, turned into a little corner of Paris, as people gathered, some holding the French flag, to express support for the victims, their families and friends, and the French people. Pitt people as well as members of other local universities and the community were united in a call to stand against violence and terror.
Other Stories From This Issue
There are no stories for the issue at this time.
On the Freedom Road

Follow a group of Pitt students on the Returning to the Roots of Civil Rights bus tour, a nine-day, 2,300-mile journey crisscrossing five states.
Day 1: The Awakening
Day 2: Deep Impressions
Day 3: Music, Montgomery, and More
Day 4: Looking Back, Looking Forward
Day 5: Learning to Remember
Day 6: The Mountaintop
Day 7: Slavery and Beyond
Day 8: Lessons to Bring Home
Day 9: Final Lessons