We Love Chancellor Nordenberg
By Ervin Dyer
Issue Date:
April 28, 2014
It was an afternoon of root beer floats, cotton candy, and a thousand smiles.
The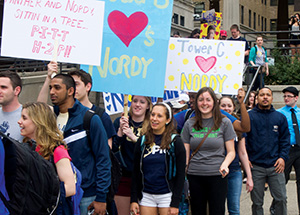 biggest, perhaps, coming from Chancellor Mark A. Nordenberg. On April 14, "We Love Nordy Day" was celebrated as a public appreciation of the chancellor, arranged by the Student Government Board, the Student Organization Resource Center, and the Resident Life and Resident Student Association.
Roc, the Panther mascot, lifted his paws for snappy high-fives; a WPTS deejay spun the dance tunes, filling the air with rhythms; and hundreds of students showed up in front of the William Pitt Student Union to support the University leader that Mike Nites, president of the Student Government Board, heralded as "a campus icon."
Dave Gau, president of the Graduate and Professional Student Government, said the occasion was a way to say "thank you" to the chancellor for serving as a role model of Pitt spirit.
Students began planning the day in January, so it was a not a complete surprise to the chancellor. He was awed with one gift, though. A blue chair, named in his honor, will forever sit in the Oakland Zoo, the space in the Petersen Events Center known as one of the most spirited student cheering sections in college basketball.
The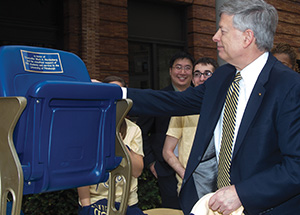 chancellor stepped to the podium, prepared to give remarks. In the distance, a chant. It grew louder. Then, a throng of students hoisting placards appeared, showing that Sutherland Hall, Tower B, and Lothrop all "heart" the chancellor, too.
"When I first heard the noise, I didn't know if it was friends or foes," said the chancellor, chuckling. "I always thought the University of Pittsburgh had the best students in the world—that you possessed an enviable range of academic and other abilities. But today you've proved you have the best in terms of human qualities, too. 'I Love Nordy' is shorthand for I Love Pitt. So do I."
Applause all around. "Let's go Pitt," roared the students, who rushed to grab the special-order I love Nordy t-shirts. But more so, they gravitated toward the chancellor, who stood with them, shaking hands, collecting well-wishes, and posing for selfies.
"This means the world to me," the chancellor said between snapshots. "No one in this position can reasonably expect this kind of initiative to recognize their work. Especially when it comes at such a busy time [for students]. It's a wonderful day and I'm very grateful."
In the background, ice cream floats, cotton candy, and lots of smiles.
Other Stories From This Issue
There are no stories for the issue at this time.
On the Freedom Road

Follow a group of Pitt students on the Returning to the Roots of Civil Rights bus tour, a nine-day, 2,300-mile journey crisscrossing five states.
Day 1: The Awakening
Day 2: Deep Impressions
Day 3: Music, Montgomery, and More
Day 4: Looking Back, Looking Forward
Day 5: Learning to Remember
Day 6: The Mountaintop
Day 7: Slavery and Beyond
Day 8: Lessons to Bring Home
Day 9: Final Lessons