A Winning Combo: Pitt Benefits From ACC Academics, Athletics
By Shawn Ahearn
Issue Date:
September 9, 2013
When Pitt Athletic Director Steve Pederson was preparing for the Panthers' nationally televised Labor Day football game—the University's first as a new member of the Atlantic Coast Conference (ACC)—he envisioned the atmosphere at Heinz Field on the big game day.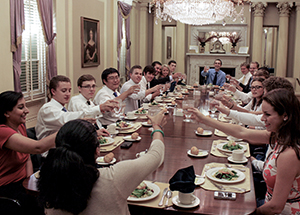 Could the flag of each ACC school be carried onto the field in a display before kickoff of the Sept. 2 Pitt-Florida State game, Pederson wondered? He called Pitt Student Government Board President Gordon Louderback, who contacted his fellow ACC student-body presidents. Not only did they agree to bear their schools' flags, the student-body presidents agreed that Pitt and Florida State University would cohost a leadership conference at Pitt over Labor Day weekend.
This first gathering of student-body presidents from the ACC—generally considered one of the top athletic and academic conferences in the country—is just one example of the academic and leadership opportunities available to Pitt's students through the University's new ACC membership.
Another opportunity will come in April 2014 when Pitt hosts the annual ACC Meeting of the Minds conference, which supports and showcases undergraduate research. About 100 students from ACC universities—and one or two faculty per school—attend the conference annually.
In fact, the ACC Inter-Institutional Academic Collaborative supports several academic initiatives aimed at enriching the educational missions of its 14 member schools. The collaborative's fellowships, conferences, and symposia are meant to benefit all of a university's students, not just its athletes. Another way that some ACC schools are joining together is by participating in Coach for College, an independently run service-learning program that brings together U.S. student-athletes and Vietnamese university students to teach academics, sports, and life skills at summer camps to children in rural Vietnam. The Summer 2013 program included 60 student-athletes from 20 U.S. universities—including two students from Pitt.
Pitt Provost and Senior Vice Chancellor Patricia E. Beeson applauds Pitt's move into the ACC. "We are excited about Pitt's new home in the ACC because it will create additional opportunities with a group of strong institutions committed to partnering in academics. The conference's geographic base in the East Coast will also enrich our efforts with regard to recruiting students and placing them once they graduate. We have been fortunate that Pitt students have already participated with students from other ACC schools in events like the Meeting of the Minds and ACC Day in Washington, D.C., and we look forward to more mutually beneficial opportunities in the future," she said.
Based on the success of the student-body presidents' gathering at Pitt, more collaborations are sure to come, according to Pitt Chancellor Mark A. Nordenberg, Florida State President Eric Barron, and ACC Commissioner John Swofford—all of whom met with the ACC student leaders prior to the Pitt-Florida State game.
"This is a very important day in the history of the University of Pittsburgh as we publicly enter the Atlantic Coast Conference on a very visible stage," said Chancellor Nordenberg to the students. "This is the beginning of a wonderful relationship, one that extends beyond athletic competition and includes gatherings like this one. I'm proud of our student leaders for taking the initiative to bring you together, and I'm pleased so many of the schools in the ACC could be represented by their student leadership here today."

Florida State President Barron commended the student-body leaders' initiative, calling the quickly arranged conference "absolutely fantastic. You can see what each of the universities is doing, what they're doing well, what makes you feel proud, and you can share it all with other institutions."
Commissioner Swofford formally welcomed Pitt, Syracuse, and Notre Dame as the newest ACC conference members. He added that the cornerstones of the ACC during its 60-year history "have long been, and still are, the balance of academics at the highest level; coupled with athletic programs that compete at the highest level nationally; coupled with a set of rules, integrity, and compliance from an NCAA standpoint.
"This is the strongest academic conference among the five major conferences," Swofford said. "We should be very proud of that. There's no reason that we can't be the best major college athletic conference in the country, in whatever way you want to measure it, whether it be academics, whether it be integrity, whether it be the competition."
The weekend of activities for the student-body presidents began Sept. 1 with dinner at the home of Pitt Vice Provost and Dean of Students Kathy Humphrey. Following lunch Sept. 2 in the Cathedral of Learning's Croghan-Schenley Room, the student government representatives moved up to the Cathedral's top-floor Babcock Room, where they conducted meetings and exchanged information. The reps then carried their respective school flags onto Heinz Field before the kickoff of the Pitt-Florida State game, as Pederson had envisioned.
"It was such a privilege to have this outstanding group of student leaders gather together to discuss how to enhance the student experience on each of our campuses," said Humphrey, adding that it was "exciting to see the students want to talk about how we can collectively make an impact in our world."
"What we're most excited about is really to be able to tap into the purpose and mission of the ACC beyond athletics," said Rosie Contreras, Student Government Association president at Florida State. "Being able to bring together students who are so invested in their respective universities … brainstorming about what the future of the conference can be and where our collective potential really lies, it has been exciting and thought provoking."
"It was a great weekend that definitely exceeded all of our expectations," said Louderback. "We wanted to collaborate and learn about what each of us is doing at our institutions. And then try to bring what we learned—about other government structures, programming, and how we can advocate together as ACC schools—back to our campuses, and to our local and national government officials."
Other Stories From This Issue
There are no stories for the issue at this time.
On the Freedom Road

Follow a group of Pitt students on the Returning to the Roots of Civil Rights bus tour, a nine-day, 2,300-mile journey crisscrossing five states.
Day 1: The Awakening
Day 2: Deep Impressions
Day 3: Music, Montgomery, and More
Day 4: Looking Back, Looking Forward
Day 5: Learning to Remember
Day 6: The Mountaintop
Day 7: Slavery and Beyond
Day 8: Lessons to Bring Home
Day 9: Final Lessons