Winter 2008 Report to the Trustees
Issue Date:
March 17, 2008
This is the print version of Chancellor Mark A. Nordenberg's report to the Pitt Board of Trustees at its Feb. 29 meeting
Most typically, when I address you, I provide an overview of memorable events and important developments in the life of the University of Pittsburgh, either over the course of the preceding year or covering the period of time since our last meeting. Today, though, I want to focus on a single week, the first week of this month, and I intend to limit my remarks to two events and two principal topics.
On Feb. 1, we not only began a new month in the calendar year but also launched our observance of Black History Month. This year, we did so in partnership with our friend and colleague George Miles, at the world premiere screening of the WQED documentary, Fly Boys: Western Pennsylvania's Tuskegee Airmen, which the University had helped to sponsor. It was a fantastic evening—drawing an audience of more than 1,000 hardy souls, who braved the winter weather to travel to Soldiers and Sailors Memorial Hall for an event that was both educational and inspirational.
More than 70 of the Tuskegee Airmen came from Southwestern Pennsylvania, an unusually high concentration, and 26 of them were Pitt graduates or became Pitt graduates or had other strong Pitt connections. Within the "strong connections" group, for example, was Wendell Freeland, a former member of this board. The documentary itself is a moving account of loyal and courageous men whose distinguished record of wartime service changed the course of the struggle for civil rights in America. Watching the documentary in the company of some of the surviving Tuskegee Airmen from this region whose contributions were featured in the film made the experience even more memorable.
Our Black History Month programs have attracted a large and enthusiastic following in recent years, principally because we have found ways to press beyond what has become the norm—participating in the national celebration of Black History Month with a speaker or panel discussion. Instead, through a succession of unique and successful initiatives, we have found ways to breathe new life into important, and sometimes neglected, chapters of that history, by creatively presenting and preserving them.
Those efforts have included the world-premiere screening of the documentary K. Leroy Irvis: The Lion of Pennsylvania, chronicling the life of the Pitt law school graduate and trustee who not only was the first African American speaker of the Pennsylvania House of Representatives but the first Black speaker of any state house since Reconstruction; the award-winning Heinz History Center exhibit and accompanying book celebrating the proud 125-year history of Three Rivers Youth, which had been founded as the Home for Colored Children; the world-premiere screening of the WQED documentary Torchbearers, preserving the legacy of Pittsburgh's civil rights pioneers; and the world-premiere screening of the documentary chronicling the pathbreaking contributions of the Hill District's Freedom House Ambulance Service, the country's first provider of modern emergency medical services. Freedom House was staffed principally by Black residents of the Hill District who had been dismissed by most as "unemployable," but who were effectively trained to make these pathbreaking contributions to emergency medical care by the late, great Pitt medical school professor Peter Safar, also revered as the "father of CPR."
As you know, this "moving to the next stage" is not only reflected in our annual Black History Month celebration, but in our diversity efforts throughout the year. So, we are committed not only to attracting a diverse student body, but also to ensuring that everyone within that student body has the chance to achieve the very highest levels of academic success. We saw that aspect of our efforts realized during the last year, when outstanding African American undergraduates earned both a Rhodes Scholarship and a Goldwater Scholarship. Similarly, we are committed not only to taking advantage of the full range of human talent within our general workforce but also to making certain that the full range of that talent is deployed, for the benefit of the University, in visible positions of leadership and impact.
Many people have contributed to our exceptional Black History Month series, but one University leader deserving special credit is Vice Chancellor for Public Affairs Robert Hill. This year, building on discussions initiated by Robert, we titled our ongoing program of annual Black History Month observances "The University of Pittsburgh K. Leroy Irvis Black History Month Program." This, we believed, was a fitting tribute to a man who, both through his work and through his inspiring example, made many significant and lasting contributions to Pennsylvania, to Pittsburgh, and to Pitt.
For our University, Speaker Irvis' most directly relevant legislative contribution was his sponsorship of the bill, enacted in 1966, that made Pitt a state-related university. The state appropriations that resulted took Pitt from the brink of bankruptcy and helped position us to become one of the country's top public research universities. For our part, the University has provided tens of thousands of Pennsylvania residents with access to a very high-quality higher education at a comparatively reasonable cost, simultaneously meeting a collective state need and positioning each of those individual students to use the power of education to build the foundation for a more productive and satisfying life. In recent years, of course, the University also has become a key engine of economic development and has broadened its commitments to its home communities.
Four days after the screening of Fly Boys as the first Irvis Black History Month Program and 42 years after Speaker Irvis sponsored the bill creating Pennsylvania's new partnership with its state-related universities, the commonwealth's budget proposal for the next fiscal year was released. It began with a decidedly upbeat assessment of Pennsylvania's economic condition: "Today, at a time when the national economy seems to be spiraling into a recession and many other states are struggling to deal with the impact of the national downturn on their budgets, Pennsylvania is in much better shape."
Unfortunately, the state's comparatively advantageous economic position was not translated into positive budgetary news for the commonwealth's state-related universities. Instead, the appropriations recommended for Pennsylvania's public research universities clearly reflect that a diminished priority has been assigned to these institutions, even while their expected contributions to the commonwealth are increasing.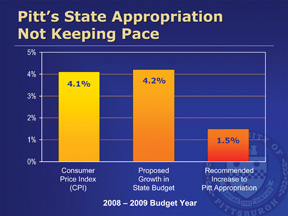 In a year in which the Consumer Price Index rose by 4.1 percent and the proposed overall growth in the state budget is 4.2 percent, the recommended increase to Pitt's education and general appropriation is a mere 1.5 percent. To provide an even more complete picture, when the proposed treatment of other Pitt line items is considered—because our line item support for teen suicide services, public health practice, disadvantaged students, and student life initiatives all were frozen and our line item support for rural education outreach was cut by 12 percent—the overall increase recommended for Pitt falls to 1.2 percent.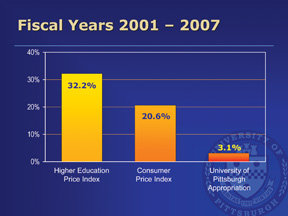 But the troubling nature of this recommendation becomes even more clear when it is considered in context. From fiscal year 2001 through fiscal year 2007, the Higher Education Price Index increased by 32.2 percent, and the Consumer Price Index increased by 20.6 percent. In that same period, Pitt's appropriation increased by only 3.1 percent. And even reaching that low level of percentage increase depends upon counting federal matching dollars as state funds. Since the commonwealth appropriation for the current year, as reported, includes $9.9 million in federal Medicaid matching funds, Pitt's current appropriation actually includes approximately $700,000 fewer state dollars than our fiscal year 2001 appropriation did.
As the nation emerged from the fiscal challenges that visited us all earlier in this decade, most states began re-investing in higher education in an attempt to reverse losses that had been suffered during that severe downturn. Describing that trend, a recent article in The Chronicle of Higher Education bore the headline "State Appropriations for Higher Education See Biggest Jump in Decades" and reported that "state-tax support for higher education climbed 7.5 percent in the 2007-08 budget year [and] was the highest annual increase since 1985."
The situation in Pennsylvania stands in sharp contrast to that encouraging national trend. State support for higher education here rose only 1.8 percent last year—less than one-fourth of the national increase—placing Pennsylvania 47th among the 50 states. Unfortunately, we were just one spot higher, 46th, when increases over the last two years were compared.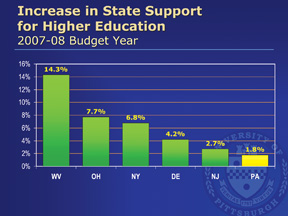 The states that border Pennsylvania, and presumably are subject to some of the same economic constraints, project a very different picture. West Virginia's support for higher education was up 14.3 percent, Ohio was up 7.7 percent, New York was up 6.8 percent, Delaware was up 4.2 percent, and New Jersey was up 2.7 percent. Many of the states that are home to universities with which Pitt directly competes also made substantial additional commitments to higher education. For example, Minnesota was up 12.6 percent, Texas was up 11.2 percent, North Carolina was up 10.5 percent, Wisconsin was up 8.2 percent, and California was up 5.7 percent.
As noted earlier, the creation of the relationship between the Commonwealth of Pennsylvania and the University of Pittsburgh—a relationship that Speaker Irvis helped forge—resulted in additional state financial support for Pitt. It was expected that some of those funds would be applied to general overhead and to the support of particular programs. Also at the heart of this new relationship, though, was an understanding that the state would provide the funding that would, in turn, enable the University to maintain lower tuition rates for Pennsylvania residents.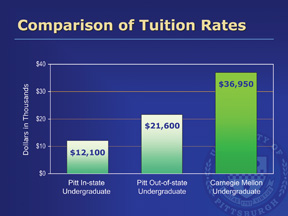 Forty-two years later, the University of Pittsburgh is still maintaining that differential—whether measured against the tuition that we charge our own out-of-state students or against the tuition charged by our private peers. While tuition rates vary from program to program and campus to campus, the undergraduate tuition rates for the Oakland campus, which affect the largest number of students, provide a telling example. In-state, undergraduate tuition at the Oakland campus for the current academic year is about $12,100; out-of-state undergraduate tuition at the Oakland campus is about $21,600—roughly 1.8 times the in-state charge. One natural benchmark for how our tuition compares to private AAU research universities sits just up Forbes Avenue.
At Carnegie Mellon, undergraduate tuition for the current academic year (before recently announced increases) is $36,950, more than three times larger than Pitt's in-state charge.
Many people naturally would assume that it is the state appropriation that permits a public university to offer in-state tuition rates that are so comparatively low, and that may be the entire story in some states. It may even have been the entire story at some early time here at Pitt. However, our modern-era appropriations, though a welcome form of support, cover only part of that large cost gap.
Let me offer an oversimplified calculation, but one that accurately makes a basic point. If you take our entire education and general appropriation and assign that amount, for these purposes, exclusively to in-state tuition reduction and also include our much smaller disadvantaged students and student life initiatives line items, that creates a total pool of about $165 million—a large amount of money. If you divide that number by 26,456, the number of in-state students at Pitt (except for medical students, because the School of Medicine is funded separately), you are left with a per student subsidy of about $6,200.
That amount, again, can fairly be viewed as a generous individual subsidy. However, the current gap between in-state and out-of-state undergraduate tuition at Pitt is $9,500 —roughly 1.5 times that amount. And the gap between in state undergraduate tuition at Pitt and undergraduate tuition at Carnegie Mellon is $24,850—roughly four times that individualized level of state support.
By almost any measure, Pitt remains a relative bargain in today's world of higher education. That status is reflected in the rising tide of applications that continue to come our way. It is clear when one compares the costs associated with competitor universities. And independent publications have labeled us a "good value" institution.
Effectively managing costs has been a strength of Pitt and remains a very high priority. But we also are committed to maintaining high levels of quality. And to underscore one obvious link, when the state appropriation does not adequately grow, more of the cost of an in-state student's education must be borne by that student in the form of higher tuition charges.
Returning more specifically to Pitt's current position, if our fiscal year 2001 appropriation had been increased by an amount equal to the Consumer Price Index (CPI) (which is lower than the Higher Education Price Index) over the course of the intervening years, our appropriation would be some $30 million larger than it is today. To be clear, we never have expected that this large gap could be quickly closed. Instead, we have only asked that steps be taken to move our levels of funding in that direction. But when the recommended increase for the next fiscal year is less than one-third of the CPI, we are in danger of falling further behind, with even larger cost burdens to be shifted to tuition-paying students and members of their families.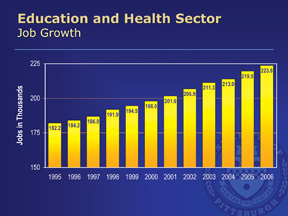 And, of course, it is not only those with such direct links who are disadvantaged by this trend toward diminished funding. Instead, everyone who has any interest in Pennsylvania's economy has a meaningful stake in the strength of the Commonwealth's public research universities. Becoming a bit more local, not only is the health and education sector the top employment sector in this region, it is the only sector of the regional economy that has added jobs in every year since 1995. And whether it is through our own employment, through the jobs supported by our research expenditures, through the companies created as we commercialize our discoveries, or in any of a number of other ways, Pitt sits at the very heart of that sector.
The fact that other states place a higher value on public higher education is reflected in the budget increase numbers that I cited just a few moments ago. That higher priority also is reflected in special initiatives that are being launched in other states.
Just last month, for example, a commission convened by the Governor of New York issued a report on steps that should be taken by that neighboring state to improve its universities and use them to fuel its economy. Among the recommendations: Establish a $3 billion research fund to support economic development; create a low-cost student loan program; hire 2,000 additional full-time professors, including 250 "eminent scholars," in the next five years; and enter into multi-year agreements with public universities to guarantee a certain level of funding for a period of years.
Obviously, none of us can know how many of these recommendations ultimately will be implemented. Presumably, New York State, like Pennsylvania, has budgetary challenges relating to Medicare and prisons and basic education and dozens of other things. But at least New York, like many other states, has determined and declared that public higher education—and, more particularly, public research universities—have got to be included among the state's high priorities —both in fairness to a new generation of students and as a matter of forward-looking economic self-interest.
It is unlikely, of course, that Speaker Irvis, in 1966, could have envisioned the place that this University, his university, would occupy—in this city, in this commonwealth, and beyond—in 2008. It is clear, however, that he believed in the power of higher education, both in elevating individual lives and in enhancing our collective future. That is why he sponsored the bill that made Pitt a state-related university.
But this belief in the power of education and the government's responsibility to support it has been a part of the compact between the people of Pennsylvania and their government for more than 221 years. Yesterday, as you all know, was Pitt's 221st birthday, and the preface to the Act of February 28, 1787, chartering the academy that became our University directly declares that "the education of youth ought to be a primary object with every government."
Even earlier than that, Ben Franklin, perhaps the greatest Pennsylvanian of all and Rep. Irvis' predecessor as speaker of the Pennsylvania House of Representatives, stated, simply but memorably, that "an investment in knowledge always pays the best interest." Unfortunately, though honored in concept, the statement of values seems to have had very little impact, particularly with respect to Pennsylvania's public research universities, as state budget priorities have been set in more recent years.
Perhaps this year's stark budget message—buried in a big budget book, but clear in its meaning—will provide the platform from which all of us can work to get things back on track, not only for the good of Pitt but for all of the people who depend on us for so many different things. A commitment to making that happen is a part of the basic bond between us, as institutional stewards. That bond can be traced back to Hugh Henry Brackenridge, our founder and the sponsor of our 1787 chartering legislation. And it is a bond that flows through K. Leroy Irvis, the Lion of Pennsylvania, who was the sponsor of the bill that made Pitt a state-related university.
It seems especially fitting to focus on that bond today, as our University begins its 222nd year. We move into this new year from a highly respected position, with momentum that continues to build, and with truly exciting prospects. But we also move forward with a set of daunting challenges—including, in particular, the challenges just described that relate to state funding. Hopefully, this is one area in which we can effectively reach back, even as we move forward, to restore a more appropriate level of funding to an institution that has proven itself to be a very worthy recipient of investments for more than two centuries.
Other Stories From This Issue
There are no stories for the issue at this time.
On the Freedom Road

Follow a group of Pitt students on the Returning to the Roots of Civil Rights bus tour, a nine-day, 2,300-mile journey crisscrossing five states.
Day 1: The Awakening
Day 2: Deep Impressions
Day 3: Music, Montgomery, and More
Day 4: Looking Back, Looking Forward
Day 5: Learning to Remember
Day 6: The Mountaintop
Day 7: Slavery and Beyond
Day 8: Lessons to Bring Home
Day 9: Final Lessons