Women's History Month: Beverly Harris-Schenz
Issue Date:
March 3, 2008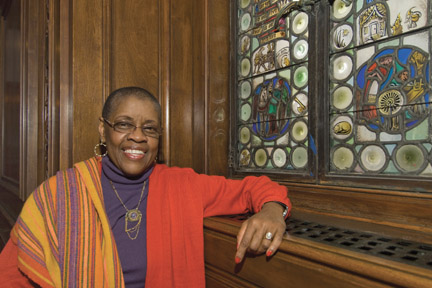 Beverly Harris-Schenz has a successful academic career and a passion for what she does. Yet she continues to look at her past and present with some wonder.
"Never in a lifetime did I think I would do what I do now—and be able to do what I have done," she says. In fact, Harris-Schenz has to remind herself every now and then that the "girl from the East Side of Detroit," as she sometimes refers to herself, has become a woman of the world.
Harris-Schenz is a professor of German and director of undergraduate studies in the University of Pittsburgh's Department of Germanic Languages and Literatures. Her specialty is language with a focus on German children's literature, foreign language pedagogy, and teacher training. In 1988, she received the Chancellor's Distinguished Teaching Award. Previously at Pitt, she served as vice provost for faculty affairs and was associate dean for undergraduate studies in Arts and Sciences.
Clark Muenzer, chair of Pitt's Department of Germanic Languages and Literatures, describes Harris-Schenz as a "star in the classroom." In addition, because Harris-Schenz has held a variety of positions at the University, Muenzer says she has been "involved in every level and aspect of the education of all of our students." Many have chosen her to oversee their work on research papers.
He adds that Harris-Schenz has been successful at every level of her career. "Her charismatic presence and grounded sense of what needs to be done produces real results," he says.
For her part, Harris-Schenz says she is very grateful for the opportunities that she has had at Pitt. "Each of these positions gave me a chance to enhance my skill base by developing new programs, chairing committees, making presentations to diverse audiences, supervising a large staff, and working with faculty, students, and parents," she says.
While there may not have been an orchestrated plan that brought her to where she is today, there was much determination and an openness to choosing the unknown path in front of her. In addition, her parents placed a high value on education—it was a given, for example, that Harris-Schenz would go to college.
"My father went through the sixth grade and worked at Chrysler, my mom went to high school and had a successful career in government service," she says, noting that her father didn't want her to have a job in high school, for fear her educational dreams would be derailed. When he passed away 10 years ago, Harris-Schenz established a Pitt scholarship in his name—the Samuel Vanworth Harris Memorial Scholarship in Arts and Sciences.
Growing up in Detroit, Harris-Schenz initially dreamed of becoming a physician. After attending an honors high school, she entered the University of Michigan as a chemistry major. Because the basic documents for chemistry were in German, the university required chemistry majors to complete two years of the language.
"The word on the street was that German was a hard language," says Harris-Schenz. "It was said, 'You can probably pass chemistry, but you'll fail German.'"
Expecting German to be difficult, Harris-Schenz began to study it during her freshman year. Because she found her chemistry courses fairly easy, she began tutoring friends in the subject. And she threw herself into the German class, loving it so much that she decided to major in the language.
She recalls that her senior year abroad in Germany was a life-changing event. The different culture and new experiences spurred a lifelong hunger for travel, an activity which Harris-Schenz says is key to being an educated person. "In Germany, I was exotic. I could have looked at that as a negative, but I chose to see it as a positive. I came into my own there. I could be me," she says.
She received her doctoral degree in German studies from Stanford University in 1977. At that time, there were no African Americans in the German department. In fact, she was only the second African American to earn a PhD in German at Stanford.
While at Stanford, Harris-Schenz taught a class in a room that was located in the corner of a quad area on the campus. She says that every tour of prospective students would go by her class. "Many people had the sense that African Americans were there because of affirmative action," she explains. "There were many talented African Americans working very hard and under such an amazing amount of pressure to do everything better than everyone else."
Harris-Schenz believes that an education can help to change people's perspectives, making them aware of how their expectations limit their outlook.
"People are products of their upbringing—we all have certain expectations," she says. "Some people are supposed to do some things, and other people are supposed to do other things. Those are the kinds of limitations an education helps to overcome.
"It's important to push the envelope—ask questions, make people uncomfortable. If we stay in our own parameters, we don't really learn," she says.
Harris-Schenz says she encourages her students to study abroad, believing that it is an essential component of any education in today's global society. "People view the world through the perspective of their parents and the friends with whom they grew up. Those perspectives make people who they are and set their expectations of the world," she says. "Students who go to other places learn that the whole world doesn't think the way you think."
She and her husband, whom she met when he came to Pittsburgh on a two-year Fulbright Scholarship, have traveled to South Africa where they have helped to build houses with Habitat for Humanity projects in Durban and outside of Cape Town in a community called Kayelitscha. At the same time, they also taught elementary-school English to young students.
Harris-Schenz says she believes it's important to make the best of who you are. Her advice is "to not allow yourself to be constricted by what other people think. Do not let your dreams be limited, particularly young women. It's important to find your voice and not be limited by external perceptions.
"If a person is not the norm—whether it be race, gender, or sexual orientation—it's a battle we fight even in today's society," she says. "We're there when the equality we espouse is a reality."
Other Stories From This Issue
There are no stories for the issue at this time.
On the Freedom Road

Follow a group of Pitt students on the Returning to the Roots of Civil Rights bus tour, a nine-day, 2,300-mile journey crisscrossing five states.
Day 1: The Awakening
Day 2: Deep Impressions
Day 3: Music, Montgomery, and More
Day 4: Looking Back, Looking Forward
Day 5: Learning to Remember
Day 6: The Mountaintop
Day 7: Slavery and Beyond
Day 8: Lessons to Bring Home
Day 9: Final Lessons