WQED-TV to Air UNDAUNTED: The Forgotten Giants of the Allegheny Observatory May 9
By B. Rose Huber
Issue Date:
May 6, 2013
The public television debut of UNDAUNTED: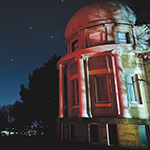 The Forgotten Giants of the Allegheny Observatory will air at 8 p.m. May 9 on WQED-TV. The hourlong documentary chronicles the history of the University of Pittsburgh's Allegheny Observatory, founded in 1859. It focuses on the stories of the observatory's first director and pioneering astronomer, Samuel P. Langley (1834-1906), and telescope-lens maker John Brashear (1840-1920), who would go on to serve on the University's Board of Trustees, and as acting chancellor from 1901 to 1904.
Produced by Pitt alumnus Dan Handley (GSPH '08), the film is titled UNDAUNTED to reflect the struggle of scientists and technicians who weathered so many failures before making great breakthroughs. The documentary depicts several examples, including that of Brashear and his wife, Phoebe, who spent years creating large refractive lenses for telescopes, only to have some lenses break accidentally. Langley studied solar phenomena, established a way to standardize time for railroad companies, and developed an aerodrome flying machine.
"Langley and Brashear were once household names because of their many astounding accomplishments. I'm hoping to bring back the recognition of what they did to advance science and technology," said Handley. "This isn't just a Pittsburgh story; it's about how a few determined individuals changed the course of world history."
Handley directed, produced, scripted, and edited the film, which made its theatrical debut in April 2012 at the Heinz History Center. City Councilman William Peduto served as executive director. Since that world premiere screening, UNDAUNTED has achieved a wide educational reach: 164 DVDs and educational packets have been sent to every public, private, and parochial middle and high school in Allegheny County, and 117 DVDs and educational packets have been sent to science teachers throughout the Commonwealth.
Beginning May 19, UNDAUNTED will be offered by American Public Television to nearly 360 public television stations around the United States. Screenings also are being planned at the Carnegie Science Center.
The film was sponsored in part by the University of Pittsburgh.
Visit http://www.pittmag.pitt.edu/?p=1444 to read a Pitt Magazine article about the making of the movie.
Other Stories From This Issue
There are no stories for the issue at this time.
On the Freedom Road

Follow a group of Pitt students on the Returning to the Roots of Civil Rights bus tour, a nine-day, 2,300-mile journey crisscrossing five states.
Day 1: The Awakening
Day 2: Deep Impressions
Day 3: Music, Montgomery, and More
Day 4: Looking Back, Looking Forward
Day 5: Learning to Remember
Day 6: The Mountaintop
Day 7: Slavery and Beyond
Day 8: Lessons to Bring Home
Day 9: Final Lessons