Yadhu Dhital: Setting his sights on medicine to improve lives
By Liberty Ferda
Issue Date:
April 27, 2015
Yadhu Dhital knows a thing or two about beating the odds.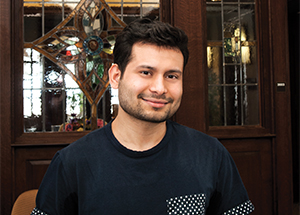 As a Bhutanese child growing up in a refugee camp in nearby Nepal, he witnessed many people—relatives included—suffer and die from diseases that were preventable or treatable, like dysentery or anemia. That's when he first became determined to become a doctor.
Today, Yadhu graduates from Pitt with a Bachelor of Science in Natural Sciences (pre-med track) and a certificate in Conceptual Foundations in Medicine. His sights are set on getting into Pitt's School of Medicine.
To progress this far, he has conquered overwhelming challenges. Like more than 100,000 other individuals, Yadhu and his family were forced from their native Bhutan in the early '90s after that country's government began a series of citizenship and cultural changes that many describe as ethnic cleansing. His family resettled in a refugee camp in Nepal where rows of bamboo-and-plastic huts crammed every alleyway.
Poverty was rampant, health care scant, and schooling haphazard.
Yadhu caught glimpses of a wider world of opportunity when researchers and volunteers from various countries would visit the camps to document issues and to provide assistance.
"But I didn't just want to receive help," he says. "I wanted to help." He tagged along with a researcher from the University of Oxford and helped her translate, becoming an official child researcher for the British charity Refugee Youth Project. By age 14, Yadhu was actively volunteering with public awareness campaigns—organized by the Association of Medical Doctors of Asia-Nepal and other refugee assistance organizations—on HIV/AIDS, tuberculosis, and malaria in the camps.
Unlike his five older siblings, Yadhu was able to receive a somewhat structured education. Recognizing that education held the key to bettering life for himself, his family, and his community, Yadhu says he worked hard, and finished with the highest score among tenth graders across seven Bhutanese camps.
Then the International Organization for Migration gave his family the option of coming to the United States, and they settled in Western Pennsylvania, where Yadhu graduated with honors from Pittsburgh's Baldwin High School in 2011.
Immediately upon arriving in Pittsburgh, Yadhu began volunteering within the area's growing community of resettled Bhutanese. Even though his own English was still limited, he accompanied fellow former refugees to health clinics to translate for them. He noticed that people were complaining of mental and emotional health issues—stress, depression, trouble sleeping, and other issues. Yadhu began to research the incidence of mental health issues among resettled Bhutanese, only to find a dearth of information. The few stats he could find gave a grim depiction of resettled life: Rates of suicide and alcohol abuse among resettled Bhutanese in the U.S. are significantly higher than in the general population. This strengthened Yadhu's desire to become a doctor and educate others—not only about physical ailments but also the mental and emotional struggles of people who've experienced the trauma of forced migration.
When it came time for college, he sought a school with a good program.
Pitt was it.
Yadhu beat the odds, overcoming major roadblocks for first-generation resettled youth trying to get into college: completing standardized tests and the college and financial aid application processes in a nonnative language. He gained admission to Pitt Bradford in fall 2011, and while there, he joined the Pre-Health Club, the Asian Student Alliance, and the National Society of Leadership and Success. He cofounded the Bhutanese Student Group of Pittsburgh—and also participated in the University of Virginia's Semester at Sea program, visiting 14 countries in 2012.
In 2013, Yadhu transferred to Pitt's Oakland campus, where, along with excelling in his pre-med classes, he continued finding ways to help others. For instance, as a community liaison with the Pitt group Facilitating Opportunities for Refugee Growth and Empowerment (FORGE), he provides cultural training to volunteers and helps establish relationships with local Bhutanese families. He also helps to organize the Pittsburgh Refugee Youth Summer Enrichment (PRYSE) Academy, leading workshops on preparing for and applying to college.
Last year, Yadhu won a competitive Brackenridge Summer Research Fellowship from Pitt's University Honors College. Under the supervision of psychiatry and psychology professor Anne Germain, Yadhu conducted primary research on depression and post-traumatic stress disorder in the Bhutanese refugee community.
"The quality of his work is quite impressive," notes Germain, who says she's learned much from Yadhu's work. "He's absolutely right about the gap in mental health research in this area—we need to understand how to provide both physical and mental care to the refugee population."
Yadhu collected extensive surveys from 55 people in the community. The surveys assessed subjects' mental and emotional health, their perceptions of the treatability of mental and emotional issues, and their attitudes about life in the United States. He was surprised to find that even though most of his respondents were literate, statistics showed they weren't faring much better than the general refugee population in terms of mental and emotional health.
"My research is not only for mental health professionals, to help them look at these issues in a culturally appropriate way, but also to bring awareness to my people that these issues can be treated," he says.
"Yadhu has a genuinely altruistic motivation to improve what is done for people," says Germain. "He's been thinking about how to make a difference for a long time and it's clearly one of his central goals."
In December, Yadhu achieved another personal goal: gaining U.S. citizenship. "I've never had any citizenship. My parents did before, but it was devalued when they were exiled from Bhutan," Yadhu says. "It was a very emotional day."
Today is likely to be another emotional day as he receives his undergraduate degree from Pitt. Without question, more milestones are ahead for Yadhu as he works to achieve his goal and to improve the lives of others on his journey.
Other Stories From This Issue
There are no stories for the issue at this time.
On the Freedom Road

Follow a group of Pitt students on the Returning to the Roots of Civil Rights bus tour, a nine-day, 2,300-mile journey crisscrossing five states.
Day 1: The Awakening
Day 2: Deep Impressions
Day 3: Music, Montgomery, and More
Day 4: Looking Back, Looking Forward
Day 5: Learning to Remember
Day 6: The Mountaintop
Day 7: Slavery and Beyond
Day 8: Lessons to Bring Home
Day 9: Final Lessons