Year of the Humanities Profile: The Science and Art of Care
By Cindy Gill
Issue Date:
October 12, 2015
In August, during orientation, a cross section of students studying dental medicine, pharmacy, and public health got some lessons on something else—what it's like to be poor. The incoming students took part in a poverty simulation, a learning tool that uses role-playing and everyday scenarios to reveal the obstacles faced by low-income families. A no-show babysitter for a single parent results in a missed class or workday. A full-time job doesn't cover all the bills, so a family must choose between purchasing food, paying utilities, or buying life-saving medicines. An eviction notice arrives in the mail; more will come—and then what?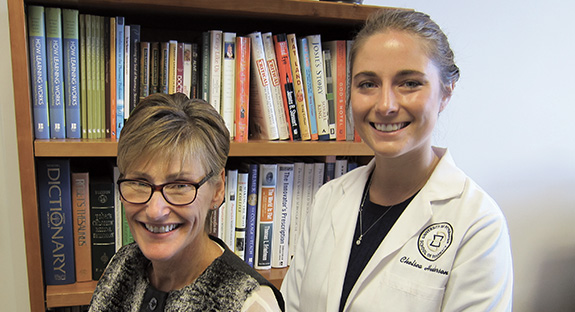 "The realities of making those choices and determining priorities—and feeling those pressures—become very real," says Susan Meyer, associate dean of education in the School of Pharmacy. "It's eye-opening, particularly for students who haven't experienced such circumstances."
One goal of this orientation tool is to develop awareness and sensitivity to the circumstances of others, and the pharmacy curriculum includes instruction that directly addresses the need for cultural responsiveness in the profession. Meyer notes, too, that the provider-patient relationship is, fundamentally, a human relationship. Getting pharmacy students to think about their patients as people first is foundational to the profession, she says, adding that health has social determinants, including ease of access to care, potential stress around affordability, and other factors.
"There's far more to patients' lives than the glimpse of them you have when you're interacting with them on a professional basis," she says. "It's important to recognize that. It's about understanding your patients, first, as human beings."
As Pitt celebrates this academic year as the Year of the Humanities in the University, it's helpful to recognize how faculty from every discipline and from diverse professions are part of the humanities endeavor.
Meyers, who is a professor of pharmacy and therapeutics, serves on the steering committee for this year's celebration of the humanities at Pitt. Joining her within that group are faculty from areas as diverse as business, engineering, law, physics and astronomy, human genetics, and political science, as well as colleagues from English literature, music, and other humanities departments.
"We can be better teachers or more effective caretakers if we understand ourselves as human beings and have an appreciation for the arts and humanities and learn from them as well," says Meyer, a licensed pharmacist.
As it happens, she's in an ideal role to share that perspective with both students and faculty colleagues. Her responsibilities within Pitt's School of Pharmacy and its Doctor of Pharmacy program include curriculum development and assessment, faculty development, and some admissions-related work, as well as teaching. Her own background includes undergraduate, master's, and PhD degrees in pharmaceutical sciences with a focus on education and instructional development. Her undergraduate years at Ohio Northern University included courses on religion, philosophy, and other liberal arts woven into the curriculum. She also acquired plenty of experience as a teaching assistant during those years.
"I realized," she says, "that I like to help people learn."
During her graduate years at Purdue University, Meyer took courses in instructional design and development, the measurement of educational achievement, and the science of learning. After graduation, she taught in Rutgers University College of Pharmacy, then built a nontraditional career on the staff of the American Association of Colleges of Pharmacy, eventually becoming its senior vice president. While there, she became enthusiastically involved in an interprofessional endeavor that brought together different professions to jointly develop educational and assessment tools.
Those experiences led her to Pitt in 2006, where she sought to employ her leadership skills and share her expertise with students in a vibrant academic health sciences setting. Now, she's not only involved with several interprofessional working groups and initiatives in the health sciences, she's also active on several Provost-area committees, including the Year of Humanities steering group.
"I learn something every time I'm at one of those meeting tables," she says. "Where else on Earth can you spend time with brilliant people from so many different areas? It's just really fun, and it broadens your exposure."
For Susan Meyer, the art of learning is part of the fabric of the humanities. Right now, she's involved with a working group in the Schools of the Health Sciences to develop an educational resource that will use examples taken from literature and film to produce teachable moments for students in the health professions. So far, sources include the film Patch Adams, a documentary about music therapy titled Alive Inside, and a young-adult book about a teenager learning to live with a disability after a serious accident. Ultimately, the project, which was funded by a Year of the Humanities competitive grant, will create instructional guides, with trigger questions, for course teaching—a resource that will outlive this year's celebration.
Other activities throughout the academic year include a diverse set of lectures by distinguished guests; panel discussions moderated by Pitt faculty, including Meyer; Humanities pop-ups around various schools on campus; and special funding support in honor of the Year of the Humanities. For complete details, visit www.humanities.pitt.edu.
"All of this gets back to my original point," says Meyer. "You can't be a doctor or a pharmacist ... or a person ... without being human."
Other Stories From This Issue
There are no stories for the issue at this time.
On the Freedom Road

Follow a group of Pitt students on the Returning to the Roots of Civil Rights bus tour, a nine-day, 2,300-mile journey crisscrossing five states.
Day 1: The Awakening
Day 2: Deep Impressions
Day 3: Music, Montgomery, and More
Day 4: Looking Back, Looking Forward
Day 5: Learning to Remember
Day 6: The Mountaintop
Day 7: Slavery and Beyond
Day 8: Lessons to Bring Home
Day 9: Final Lessons